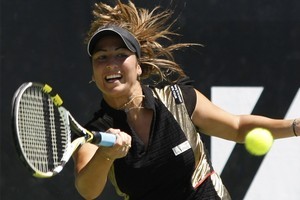 The action in next month's ASB Classic kicks off with a qualifying draw featuring 15 players in the world's top 100.
There was a hint of a strong qualifying line up when the tournament's full field was announced last month, with only players in the world's top 67 gaining direct entry.
Romanian Alexandra Dulgheru (ranked 66 in the world) heads the qualifying field, followed by Italy's Alberta Brianti (71). A number of regular ASB Classic attendees are also present, including Alize Cornet (France), Sofia Arvidsson (Sweden) and Aravane Rezai (France).
Tournament director Richard Palmer said he was delighted when he saw the qualifying list come through from the Women's Tennis Association.
"I thought to myself that some tournaments would be happy to have that line up as their main draw. Fans can now look forward to eight days of top quality women's tennis.''
There are 28 players who have made the qualifying draw and four wildcard entries. Four players from the qualifying rounds will gain entry into the main draw of the tournament starting on January 2 at the ASB Tennis Arena.
Qualifying for the ASB Classic will be held at the ASB Tennis Arena on Stanley Street, starting on Saturday, December 31 and running for three days, finishing on Monday January 2.
- APNZ