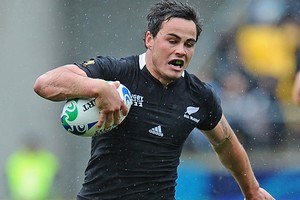 A number sportsmen found themselves in the headlines for reasons which had nothing to do with their sporting prowess during the year. Sharon Lundy of APNZ takes a look at the offenders.
Off the ball antics aplenty
One allegedly punched random strangers after running naked into a bar on a tropical island, the other was caught on camera in a compromising situation with a woman other than his wife - who just happens to be the Queen's granddaughter.
So what do these two men have in common? Ah yes, rugby, our national game and one reserved for England's so-called upper classes.
It's a tie as to whether All Black Zac Guildford or England's Mike Tindall is rugby's reprobate of the year but I'm going for the latter; not only has he married into royalty but his wife is also an attractive, international sportswoman. Some people are never satisfied, it would seem.
Just six-odd weeks after their wedding - low-key by royal standards but still featuring the future king and queen on the guest list - Tindall hit Queenstown with his England rugby teammates, in New Zealand for the 2011 Rugby World Cup (RWC).
What happened next depends on who you talk to but CCTV footage shows him spending a lot of time with a blonde woman, who it later emerged was his girlfriend before he caught Phillips' eye. He appears at times to kiss her and to bury his head in her chest.
He told team management he headed back to the team hotel after visiting the first pub but later confessed to carrying on to another bar, blonde in tow.
Phillips arrived in New Zealand soon after and the pair put on a united front. Who knows how he was punished behind closed doors.
The New Zealand Rugby Union (NZRU) has been somewhat more supportive of Guildford. After all, he only ran naked into a bar in Rarotonga and allegedly punched a couple of middle-aged men before fleeing into the night.
And let's not forget that earlier that same day, he allegedly harassed triathlete and former Nelson woman Kelly Pick while she was on a training run on the island.
Guildford spent a night in the Cook Islands' police cells before apologising to the men and being smuggled back into New Zealand - with the aid of NZRU management.
He apologised for his behaviour, said he needed to mend his ways and pledged to lay off the booze.
About a month after the incident, the NZRU announced it was banning him from the first four weeks of the Crusaders' 2012 season, three of which are pre-season fixtures and which All Blacks don't tend to play in, anyway.
Some might say it's the proverbial slap over the wrist with a wet bus ticket, and it would be hard to disagree.
Guildford must also undergo alcohol treatment and counselling, at his own expense.
Continuing the rugby theme, two former All Blacks are before the courts, one for allegedly assaulting his partner and the other for assaulting a child.
The latter, who has name suppression, has pleaded guilty and will be sentenced in Auckland District Court in February.
Stephen Bachop will appear in Wellington District Court in February to defend charges of assaulting a female, assault, resisting police, possession of cannabis and possession of drug utensils.
The alleged offending happened while Bachop was out celebrating the All Blacks RWC win in October.
The former All Black's name was initially suppressed but he decided not to pursue it to prevent "the potential of any negative impact on other former All Blacks", he said through his lawyer.
New Zealand's most famous caddie, Steve Williams, is one of the few non-rugby players to feature in the year's naughty sportsmen but his comment about former boss Tiger Woods can't be ignored.
Williams had been asked about an interview he gave following the win of his new boss, Aussie Adam Scott, at the Bridgestone Invitational two weeks after Woods fired him.
"It was my aim to shove it up that black a***hole," Williams said of Woods.
The two met and shook hands in Sydney after the comment made international headlines, with Williams apologising.
But back to misbehaving rugby players.
Declan O'Donnell started the year badly when he got caught up in a brawl at Hamilton's The Outback bar.
O'Donnell went to the bar for revenge over claims brother Kylem - a Waikato rugby player who is now also a New Zealand sevens player - was kicked in the head by security staff.
O'Donnell was given diversion and escaped conviction for his role in the incident but the bouncer, Sam McDonnell wasn't so lucky and was sentenced to 200 hours' community work and nine months' supervision for injuring with intent to injure.
Judge Noel Cocurullo said a kick to a man's face while he was on the ground was too severe to be let off.
Samoan rugby player Eliota Fuimaono-Sapolu turned to Twitter to voice his displeasure at what he saw as preferential treatment by the International Rugby Board (IRB) for predominantly Caucasian teams over teams such as Samoa. His rant linked RWC scheduling to slavery, the holocaust and apartheid, after Samoa got three days to prepare for their match against Wales, while the latter had a week.
He followed that up with an attack on Welsh referee Nigel Owens after South Africa beat Samoa in their final pool match.
Fuimaono-Sapolu was suspended from rugby for six months - although that was suspended - after he fronted to the IRB, which sanctioned him and banned him from criticising the IRB and referees for two years.
He also has to do a refereeing course and 100 hours' community service with the Samoan high performance sports academy - something he already gives time and money to.
The IRB ruling is likely to have little effect as Fuimaono-Sapolu vowed to give up rugby after the hearing.
A wise move, perhaps.

- APNZ