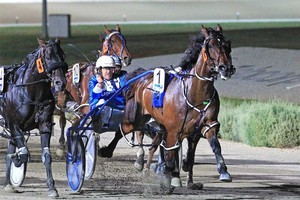 When Lance Justice should have been bathing in the glory of Smoken Up's latest amazing win, he was instead biting his tongue.
The Australian horseman was subdued after his power pacer smashed the track record, leading throughout to win the A$425,000 Victoria Cup on Saturday night, holding out Mr Feelgood and the unlucky Kiwi pacer Raglan.
It was Smoken Up's first group one win in his home state and while track records are rarely of great importance, his 1:53.3 mile rate for the 2240m mobile borders on unbelievable.
Putting it in perspective, it was about 50m faster than any pacer has ever run for the comparable 2200m standard distance at Alexandra Park, which is almost the same size as the Melton track. And a lot of great champions have raced over 2200m at Alexandra Park.
But while Justice was proud of what Smoken Up achieved, he is still seething about the great pacer losing his Interdominion Final win from last April because of a positive drug test.
And about the way that loss was confirmed to him on Friday.
"I only found out when I went to do a radio show," Justice told the Herald.
"The reporters there knew all about it but no officials from New Zealand rang to tell me I had lost the Interdominion. I knew it was coming and we are going to appeal the decision anyway, but you would have thought I'd get a call.
"Somebody told me they forgot, but they didn't forget to tell the media."
While mistakes happen, the oversight is poor considering the enormous costs imposed on Justice. But he at least will have plenty of winning percentages to pay them with, with Smoken Up having won three Grand Circuit races in the past five weeks.
He has the new favourite for the Interdominions in Perth in February, even though that series will be run on the possibly unsuitable Gloucester Park track.
As good as he was on Saturday night, Mr Feelgood was just as impressive in second after sitting parked and looks back to his best.
"If I had been able to lead I would have won so I am sure we are going as well as Smoken Up," said his trainer-driver Luke McCarthy. "And I think he might handle Gloucester Park better than Smoken Up so we are in with a chance."
The big change in the Interdom markets was also inspired by the bewildering failure of early series favourite I'm Themightyquinn.
He raced 10 lengths below his best on Saturday night and looks badly in need of a short break and a return home.
Raglan's storming late third - he would have won in another 20m - proves he belongs on the Grand Circuit and he could now head to the South Australian Cup.
"We might look at the Hunter Cup, too, although he is not really good from a stand," said driver Anthony Butt.
Fellow Kiwi pacer Franco Jamar lost his chance by galloping in the score up but made a huge recovery. He now returns to Canterbury for a break.
So, too, will Franco Emirate, who again battled and has had a disappointing Australian campaign. Earlier, I Didn't Do It overcame a second-line draw to win the Australian Trotting Grand Prix from Sundon's Gift.
HEAT APPLIED
* Smoken Up smashes the track record when winning the A$425,000 Victoria Cup.
* But his trainer Lance Justice is still seething after losing the Interdominion Final because of a positive drug test.
* That decision, given on Friday, will be appealed against.
* Kiwi pacer Raglan was a luckless third on Saturday.