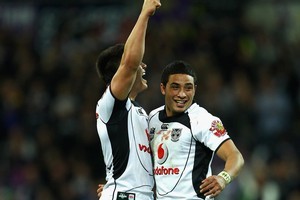 The dawn of a golden dynasty - or a bit of a stumble? The Warriors' almost entirely satisfying 2011 season would, in normal circumstances, have fans rubbing their hands together and hungrily demanding a maiden premiership after last season's major advances.
The threefold achievement of the Warriors (beaten NRL finalists), the Junior Warriors (under-20 Toyota Cup premiers for the second year straight) and the Vulcans (seemingly winners of the NSW Cup until a Bulldogs try in the final seconds won the match) in making all three finals seems to point irrefutably to the beginning of a golden era for the club.
That is especially so when it is seen that the club has made good on its promise to be a development stalwart and not a "buying" club. The likes of Andrew Johns has been publicly exclaiming the raw talent available to the Warriors.
It all points to an exciting and inviting season next year but - and there is a but - for the nagging feeling that the legacy of 2011 might not be all positive.
Coach Ivan Cleary has gone to the Penrith Panthers and it was notable that the Warriors blitz on the finals - they finished sixth in the round-robin but then mounted an almost irresistible assault to make the grand final - came when the popular Cleary's departure focused the players superbly. Since then, the feeling of a new era has grown further with the departure of director of football, John Hart.
Hart and Cleary were inextricably linked and it was pretty much an open secret that Hart opposed the club's decision to let Cleary go - as they did by not making a significant counter-offer after Penrith and their advocate, Phil Gould, came calling.
It was a big sign of change in the back office - with CEO Wayne Scurrah, himself someone who has benefitted from Hart's mentoring in the past, exercising a much heavier hand in this decision than some in the past.
Hart decided to go but Scurrah can at least point to a fine replacement for Cleary - inspirational former Kiwis coach Brian "Bluey" McClennan, around whom the players can be expected to regroup solidly.
And it's not like the Warriors are on their Pat Malone when it comes to a new coach for 2012.
No fewer than six NRL clubs (the Knights, Warriors, Bulldogs, Rabbitohs, Dragons and Panthers) will begin 2012 with a different head coach.
McClennan says his goal is to ensure the Warriors became entrenched as a top-four team, an ambitious but not unreasonable goal even in the face of the recent curse that has afflicted the last two beaten grand finalists in their next season - the Parramatta Eels (2009) and Sydney Roosters (2010) struggled terribly in their follow-up seasons.
Not all league followers buy totally into the 'Bluey' phenomenon either. Returned from a highly successful stint at Leeds in the UK (Super League titles in 2008 and 2009 and beaten semifinalists in 2010), the only slight doubt about McClennan is longevity.
Renowned as a master motivator, some doubters say McClennan is adept at progressing a club in the early stages of his stewardship but are still unsure about his long-term strategies.
Emotion can be a difficult tool to employ over and over again and this is McClennan's maiden entry into the unrelenting grind that is the NRL.
As has been proved in the last two seasons when the effect of the salary cap evened out, virtually all NRL clubs can beat any other - regardless of form, skill, ladder position, odds and common sense.
Another key factor this year is the form of James Maloney at standoff. While skipper Simon Mannering won the official player of the year title last season, many fans strongly believed Maloney should have had that honour.
The chirpy little Australian was a tower of strength to the Warriors, with a bravura season that saw him kicking goals from everywhere, a fine kicking game from the hand, a defensive presence that belied his size, a smart running game and scoring some essential tries.
Maloney was the "glue" that the Warriors have long sought and his combination with halfback Shaun Johnson a key feature of last season.
The smart money is betting that Maloney will park his impending departure to the Roosters in 2013 somewhere deep in the recesses of a determined brain and recapture last season's form - when he was really only quietened against a dominant Manly in the grand final.
Certainly, when all the hubbub was going on over whether Cleary should stay with the Warriors or depart early (for the sake of making a clean break), Maloney put all that aside to turn in a fine performance against the Titans, having a hand in three of the four tries.
However the Warriors won't just be relying on Maloney. You could say they will also be leaning heavily on Luck, Locke, 'Lightning', 'Loader' and a Friend this season.
'Lightning' is the highly talented Johnson. Defences will be waiting for him this year, having noted his elusiveness and blinding speed - perhaps best seen in that blistering try he scored against the Broncos.
The best individual try of the season, Johnson showed his spectacular qualities by beating three Broncos forwards round the ruck - including Sam Thaiday and two big props - bamboozling a cover defender and then showing his trademark goose step accompanied by a brilliant burst of speed which fuelled his outside swerve. He then showed he could step off his left foot too, chopping inside the last two defenders and outpacing them to the line - beating six people.
'Loader' is Feleti Mateo who led the Warriors and the whole of the NRL in offloads last season. Mateo had a mixed start with the club but, when he came right, his offloads and attacking runs sparked the club.
He and the big props Ben Matulino, Jacob Lillyman, Russell Packer and Sam Rapira were also key players for the Warriors, meaning their interchange almost inevitably threw another big, raw-boned angry man at defenders who might have been hoping for easier meat when the starting troops filed off.
If the Warriors can get Simon Mannering and Lewis Brown out of the centres and back into the forwards this season, they will have real depth up front.
Kevin Locke was another key attacking weapon who became far more polished at running the ball out of defence - and he shapes as another key player with speed second only to Johnson's.
These two also play off each other; witness Locke's half-break which saw Johnson speed 90m to score against Penrith in the sharp end of the minor premiership.
Luck was a mighty warrior for the Warriors last year, his battered body striped with even more scars and stitches as it was revealed before the grand final that he had suffered more than 300 stitches in his time with the Warriors.
His relentless tackling is still a feature of the side and, with Elijah Taylor and new hooker Nathan Friend - renowned as an organiser and a tackler - the Warriors' defensive spine should be further stiffened this season.
The interest in the coming season won't end there, however. New Zealand fans will follow Cleary's new path with interest and the home-and-away Warriors/Penrith, Cleary/McClennan clashes will be keenly awaited.
Gould's machinations as manager of Penrith's football operations saw the former coach and CEO moved aside and the majority of the rest of the coaching staff - before Gould appointed Cleary.
Although big forward Petero Civoniceva has gone to Brisbane, his loss is not expected to be felt overmuch as Penrith look to do what Cleary has done with the Warriors: turn them into a development side.
They already have some fine backs - Michael Gordon, Michael Jennings, Lachlan Coote and young and up-and-coming five-eighths Harry Sejka. They have big Kiwis prop Sam McKendry, second rower Clint Newton and lock Luke Lewis. Trent Waterhouse has gone to Super League and Timana Tahu to the Knights and it could be in the forwards where there is a question mark over the Panthers.
However, they have gained Newton, second rower Danny Galea and promising winger Junior Tia-Kilifi but it is in their youth that the club may pin its hopes - players such as Sejka, second rower Blake Austin, lock Sarafu Fatiaki and New Zealander and hooker Nafe Seluini; all of whom had satisfactory NRL debuts last season.
The Warriors, meanwhile, will be without some familiar faces - with Lance Hohaia, Aaron Heremaia, Brett Seymour, Joel Moon and Shaun Berrigan among those missing.