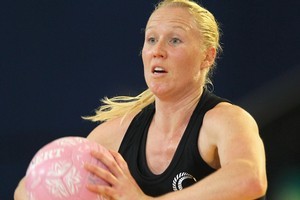 She sparked a nationwide run on crumpets but could never be accused of having a soft centre.
Though other players had their moments, Laura Langman is the only choice for netball's player of the year.
Already known as an outstanding presence at the heart of the Magic and the Silver Ferns, the 25-year-old came of age as a leader in 2011, after she took over from the injured Casey Williams.
It was a tough scenario for a new captain; the Ferns had a severely depleted squad, missing almost 200 caps with the absence of Williams, Temepara George and Katrina Grant; Ruth Aitken retired, then was called back before new coach Wai Taumaunu came in; and the Ferns faced three tests versus the cock-a-hoop world champions on Australian soil.
"Captaincy was fun and very rewarding," says Langman. "The good thing in this team is that you are definitely not alone, there are a lot of leaders."
Ultimately they lost the series but Langman made her mark. She led her young side well, didn't let captaincy affect her game and set new standards before the match with her "die on the court" speeches.
"Those talks were a bit ropey," says Langman. "It was good to get some fire in the belly going but that is probably my work-on."
The crumpets episode began in Singapore, when it was casually mentioned that Langman could not find supplies in the city state for her traditional game day breakfast (two crumpets with peanut butter, banana and jam).
Word spread through the media and soon each batch of supporters from New Zealand would arrive laden with the product.
"It was hilarious but I'm not that precious," says Langman. "I told them I could make do with bread or muffin splits. Still, it was a sign of how supportive people are and soon our rooms were covered with crumpets."
The one goal loss in the world championships in Singapore cast a dark shadow over the past 12 months.
"It was a bitter-sweet year," reflects Langman. "There were some very disappointing moments. It was challenging but that can be satisfying as well."
Looking back now, Langman felt the team had ticked off the boxes and felt ready and confident before the final.
"It was up to the seven out there and we didn't quite string all our bows together," says Langman.
She describes a "two-minute lapse" after halftime which cost their large lead, and concedes that the needless turnover, with a minute on the clock and a goal up, was the key moment.
"We needed to pull a Malawi [go backwards and keep possession]," says Langman.
"It is about game smarts and all seven needing to be aware. But we have learnt from that."
Famously, Langman has not missed a game since making her debut for the Ferns, at 81 games, a record unmatched in any major team sport in this country.
She puts her durability down to good fortune, sports science and the team's support staff - but insiders point to her work ethic and dedication, whether it is the commitment to physical preparation or her habit of disappearing on 20km runs during the off season.
She also doesn't feel bad that she has denied all the other centres in the country even a single opportunity in the past six years.
"I don't feel guilty," laughs Langman. "It takes just one game, just one chance for someone else, and that could be you. I am pretty competitive and I don't want to give my spot to anyone."