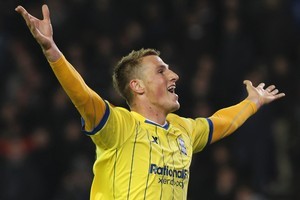 Player of the Year:
Chris Wood Chris Wood's deeds over the past 12 months mark him out as the outstanding Kiwi footballer of 2011. Wood, who turned 20 less than two weeks ago, turned promise into potential this year - and turned heads with his performances.
Still on contract to West Bromwich Albion, he was loaned to Brighton in late 2010 and found form on the South coast, scoring nine goals in 24 starts as the Seagulls were promoted as champions of League One.
After completing pre-season with the Baggies, he was picked up by recently demoted Premier League club Birmingham City, again on loan.
Despite the presence of Jamaican international Marlon King and Serbian star Nikola Zigic, Wood made a stunning start in the Championship, at one point notching seven goals in five games. He has also netted twice in the Europa League, one a dramatic winner against Belgian club Brugge in the 10th minute of injury time.
He sits third on the golden boot ladder, with nine league goals from 19 games (seven as substitute), including a 'perfect' hat trick (left foot, right foot, header) against Millwall.
It is hard to recall a New Zealand striker performing so consistently in the lower divisions of English football; Chris Killen barely played at Oldham and didn't start for Manchester City, while Rory Fallon managed 17 league goals across three full seasons in the Championship for Plymouth. No one has scored in Europe since the halcyon days of Wynton Rufer at Werder Bremen.
Wood's stellar 2011 came after a less than ideal end to last year, with a fruitless spell at Barnsley. Cue a move to Brighton.
"I didn't know what to expect in League One but I knew I needed a decent season somewhere," Wood told the Herald on Sunday earlier this year. "At the time, Brighton were top of the league and playing good football, so you couldn't really ask for anything more."
He missed the Under-20 World Cup in Colombia when West Brom refused to release him, instead choosing to stay at the Hawthorns for pre-season training before starting his spell at St Andrew's.
"When I came to Birmingham, I took a couple of weeks to get going," Wood recalled. "But things have gone well. It's hard to pinpoint but I do feel that my game has gone to another level. Obviously I hope that my form continues but, as a striker, you never know what is round the corner."
The Christmas period will have one significant marker, when Birmingham City face Winston Reid's West Ham on Boxing Day, with Reid expected to be back from a recent shoulder injury.
"It would be great to play against him," says Wood. "We talk a lot through texts and I'm sure there will be plenty of banter before that game."
Wood would be first to admit he still has a long way to go. An accomplished finisher inside the area, his general game outside the box needs work. Like most strikers, his confidence hinges on goals and, when they dry up, the rest of his game can suffer.
Nevertheless, with 17 international caps to his name and over three years in Britain behind him, Wood has every opportunity of making his mark on the sport over the next decade.
Best of the rest
Winston Reid continued his good form at West Ham, an ever-present in their Championship campaign until dislocating his shoulder in early November.
Kosta Barbarouses was an integral part of the Brisbane Roar's outstanding performances in their run to the A-League title, scoring 12 goals, and was named in the A-League all-star side. Off the radar since his move to the Russian first division, he will be a key figure should New Zealand qualify for the 2012 Olympics.
Michael McGlinchey was outstanding for the Central Coast Mariners, scored the only All Whites goal of 2011 and is now recognised as one of the most dangerous attacking midfielders in Australasia. If his rate of development continues, he will be a key man in 2012 and beyond.
Marco Rojas lit up the A-League in the second half of last season though other clubs were circling and he was lost to Wellington. However, for a few months the Yellow Fever had a genuine Kiwi hero and at times it seemed every Phoenix goal was set up or scored by the diminutive winger. He is now getting regular game time for the Melbourne Victory despite their star-studded squad.
Ben Sigmund remains the heart and soul of the Phoenix. He rarely has a poor game and has the happy knack of popping up to score vital goals, as seen last week against Perth.
Tim Payne showed his class for Waitakere United as well as playing at both the Under-17 and Under-20 World Cups. Payne, who won't turn 18 until January, has since scored a deal with Blackburn Rovers and is one to watch.
International round-up
Though it seems a long time ago, the undoubted highlight of the year came at Wembley in late May. In the years between the World Cup and European Championships, the Champions League final becomes the biggest game of the year, and Barcelona's 3-1 demolition of Manchester United was pure pleasure for most of the world, particularly the sight of Sir Alex Ferguson looking like a possum caught in the headlights.
British scribes had optimistically hoped for a Roy of the Rovers touch amid visions of 1968; they got it, but it was United who looked like schoolboys against the Catalan masters. They could have conceded two or three more had Barcelona kept their foot on the throttle. It put the Red Devils' title win in perspective and was a sad end for Old Trafford legend Paul Scholes, who has since coloured his choirboy reputation by taking a series of pot shots at fellow professionals and rival clubs after years of media silence.
Ryan Nelsen's Blackburn staved off relegation only on the final day of last season and should be bottom come Christmas; a virtual death sentence that only one team (West Bromwich Albion in 2004-05) has escaped from in Premier League history.
NNew Zealand football
The Phoenix squeezed into sixth position, one of only two teams to make the playoffs each of the last two seasons. They were soon dispatched but, given the parlous state of the club finances, it was a meritorious effort.
Rojas was a standout and Andrew Durante (in particular), Paul Ifill, Tim Brown and Sigmund had solid seasons. It is to be hoped the Socceroos continue to ignore Durante - he would do a wonderful job for the All Whites and will be eligible in two years.
The demise of Terry Serepisos and arrival of Welnix has not led to the cash injections fans had hoped but has at least put the club on a sound financial footing.
The Roar swept all before them in an astonishing season notable for their effervescent, passing brand of football.
Waitakere United were national champions and look a team of the future, while Auckland City, opting to rely more on imported talent, took out the O-League but were never going to repeat the miracle of 2009 at the Fifa Club World Cup.
Wairarapa United won the Chatham Cup, a fairytale for a team that didn't have a permanent home ground or clubrooms though New Zealand's oldest national knockout competition seems to get weaker every year.
After the heroics of 2010, the All Whites had a quieter year, a solid 1-1 draw in China followed by 0-3 losses to Mexico and Australia. The match against Japan - cancelled after the tragic tsunami - would have been the best indicator of progress, coming after the China tie. Facing Mexico at altitude in Denver with a weakened squad was always going to be perilous while the New Zealanders started the trans-tasman clash well before soft goals and travel-induced fatigue took their toll.
The New Zealand under-17 and under-20 sides gave encouraging performances at their respective World Cups. The under-17s had an astonishing 4-1 win over eventual group winners Uzbekistan and squeezed into the second round while their under-20 counterparts in Cali shared points with Cameroon and Uruguay, with goalkeeper Stefan Marinovic a stand-out.
In both cases, there was a genuine belief that they belonged at that level and could foot it with more established nations, something that not apparent in previous years. They also faded as the tournaments progressed, as the extra effort required to step up seemed to cause fatigue.
The Women's World Cup demonstrated New Zealand's progress over the past four years. In 2007, they didn't score a goal and were soundly beaten in all three games. In Germany this year, they competed well against England and eventual champions Japan before a late, late comeback secured a 2-2 draw with Mexico.
There are now a record number of New Zealand women playing professionally overseas, while coach John Herdman was poached by Canada and will be a huge loss.