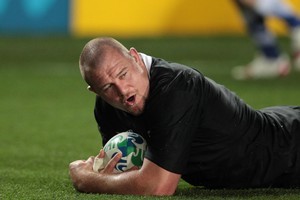 There was plenty of sports history in the making during 2011. Many of the most significant moments will leave fond memories, a few others not so. Chris Rattue gives us his top 10.
1 Tony Woodcock's World Cup final try
The French lineout parted as an All Black move worked to perfection in the 15th minute of the late-October rugby final at Eden Park. Woodcock was faced with a simple task - catch the ball and run like hell. The invitation was so inviting that the veteran prop might have fluffed his line through sheer surprise. But no, our man Tony hurtled off like a cement truck on turbo charge, brushing away a lame tackle on a 10m run to the tryline that eased the nation's nerves, briefly. Many New Zealanders described the final as a horrible experience, such was the stress as the All Blacks struggled to a surprisingly difficult 8-7 victory. Wearied by a long run of test matches, Richie McCaw and his men kept rising from the turf to keep the French at bay in the second half. This was not the manner of victory most had predicted and in the aftermath, replacement back Stephen Donald's touch-and-go penalty goal grabbed the limelight. A country desperate to reclaim the Webb Ellis Cup after five unsuccessful World Cup tournaments needed a fairytale to complete the deal and the much-maligned Donald fitted the bill in the absence of an emphatic team performance.
Woodcock's career has never faced such questions, although injury-affected form lent a touch of romanticism to his moment of magic in the final. Forwards have scored among the most memorable All Black tries - think Peter Jones against the Boks and Ian Kirkpatrick's long-range stunner against the Lions. With New Zealand rugby on a financial knife edge and the country desperate for a World Cup victory, this Woodcock try was as significant as any in All Black history
2 Doug Bracewell skittles the Australians
A new hero with an old cricketing name. Bracewell, in his third test, led New Zealand to just its third test victory in Australia - their first since the twin triumphs in 1985 - with a burst of inspired seam bowling in the second innings of the match at Blundstone Arena in Hobart. Having lost the first test in a disappointing display in Brisbane, New Zealand were headed for another defeat after their batsmen failed against a below-par Australian side. Enter Bracewell, who turned Australia's solid pursuit of 241 into a nightmare. At 159 for three, he took the famous wickets of Ricky Ponting, Michael Clarke and Michael Hussey during eight run-less balls, then broke a threatening last wicket stand to complete a heart-stopping seven-run victory. Bracewell's fast-bowling father Brendon also had an exciting start to his test career, which then faded fast. Doug's future should be brighter but whichever way it goes, this test will be full of wonderful memories. He made hay while the sun shone in ideal conditions for his bowling. Match figures of nine for 60 were Hadlee-esque and bode well for New Zealand and the Bracewell family's cricketing dynasty.
3 Novak Djokovic aces tennis
Djokovic would top most lists for sportsperson of the year. Ruling tennis when Rafael Nadal and Roger Federer are still prowling is a major feat. Djokovic sent Serbia into a series of celebrations by winning three Grand Slams and judging by the coverage, Serbians know how to celebrate. In a season labelled by former tennis stars as among the best - if not the best - ever, Djokovic became the world number one mid-year leaving Nadal and Federer in his wake with a 70-6 win-loss record. Briton Andy Murray rounds out the top four, but he might as well be 104, such is the class of the top three. These are terrific times for men's tennis even if this nice-guy trio lack the sharper personalities of a few controversial champions past.
4 Jacko Gill astounds the world of athletics
This remarkable Devonport teenager is on track to become the finest shot putter in history, capable of obliterating the steroid era from the record books in the process. Gill has blitzed the world junior ranks - his feats include qualifying for the Olympics this month at the age of 16. Fired by an obsessive will and a largely self-made training programme, his progress is so startling that he is a medal prospect in London and experts tracking him predict he will break the 21-year-old world record in his mid-20s. Gill is throwing the rule book out so while his coach and others rightfully urge caution over his prospects, there would also be no surprise if he beat the old world mark even sooner than that.
5 Lydia Ko nearly makes history as she aims for number one
Ko, at the age of 13, was amazingly close to becoming the youngest ever winner - by what would have been a staggering three years - of a professional tournament before a turnaround on the final green gave the NSW Open to a Swedish opponent in January. North Harbour's Ko is the world's top ranked amateur, taking over from her friend and Auckland rival Cecilia Cho during 2011. Ko's achievements this year include finishing 12th at the Australian Masters, beating Cho in the New Zealand matchplay and becoming the first simultaneous holder of the Aussie and New Zealand strokeplay titles. Ko built up international experience in British and US amateur events, stepping stones to what should be a superstar career. The Ko and Cho show on golf's international stage will be a riveting part of New Zealand sport for many years to come.
6 New Zealand Breakers break New Zealand's duck.
The Breakers became the first New Zealand sports team to win an Australian club title, smashing the Cairns Taipans in the third finals match at the North Shore Events Centre. The Andrej Lemanis-coached Breakers were hot favourites and duly delivered in an electric atmosphere. If the late-starting Kirk Penney was seen as the star of the season, plenty of team-mates stepped up to the task in the April finals. Over to you Warriors, netballers and Phoenix soccer players.
7 Three Pakistani cricketers are jailed ...
... by an English court after being convicted for their part in a betting scam which involved bowling three deliberate no-balls in a test against England at Lords in 2010. Could this be a watershed for a game in desperate need of a convincing clean up? The much despised and now departed News of the World entrapped Salman Butt, the Pakistani captain at the time and a fraud ringleader, Mohammad Asif and the 19-year-old Mohammad Amir. The latter two admitted their crimes - there were even pockets of sympathy for the teenage Amir - whereas Butt did not. The ICC banned them for five years although this was not deemed sufficient by a few observers. The prison sentences were a triumph of sorts in that they could deter others, but cricket betting fraud is hard to detect because the infractions are easily hidden. At least there was a feeling of revenge being exacted upon perpetrators of this insidious sports crime. The sting was also a reminder that vigorous tabloid journalism is not all bad. As the judge noted, cricket's credibility has been eroded, particularly with a general distrust around surprising events and results. There is still a long way to go before it is fully restored but this might be a start.
8 Richie McCaw cracks the ton, despite cracking foot
What more can be said about this remarkable bloke? Despite trying to downplay his foot injury McCaw was clearly playing through pain and disrupted preparations during the World Cup. After a false start when he withdrew from the game against Japan, McCaw reached the 100-test milestone in the emphatic Pool A victory over France at Eden Park. For his troubles, he received a silver cap which made him look a bit like one of Billy Bunter's schoolmates. Such trappings aside, McCaw was typically humble, and any fanfare was overshadowed by the more important business of winning the World Cup. McCaw is a legend in every respect, and the accolades will continue to rain down. He is both the inspiration and the glue for the All Blacks and has carried New Zealand rugby on his shoulders at times. It is highly debatable if they would have won the Webb Ellis Cup without him. McCaw might have to make the next World Cup to beat George Gregan's world record of 139 caps.
9 The longest basketball labour deal in history ...
... resulted from the hilarious sight of the American basketball owners and players struggling manfully with the tricky question of how to divvy up $5.3 billion in revenue each season. Life is tough. A 149-day lockout ended when a 50-50 split was agreed - a so-called defeat for the players, many of whom will have to reconsider buying that fourth Porsche. Basketballers are the highest paid athletes in America (which is saying something) taking home average pay of more than $6.7 million, although the poorest ones do struggle on a tenth of that. The current deal is guaranteed for six years with provisions to last for 10. As lockouts go however, this was a tiddler compared to the doozy which cancelled the 2004/05 north American hockey season. And rather than marching around in circles waving placards or mucking about with food banks, a few basketballers signed contracts to play in other countries. Way to go, brothers.
10 Champions League final - Barcelona v Manchester United
Barcelona won the May final 3-1 at Wembley Stadium in London, but it might as well have been 10-0. This was the team performance of the year by maybe the most extraordinary club side that soccer has seen. Designed from within, Barcelona play an intricate, suffocating game that was at the heart of Spain's 2010 World Cup victory. Manchester United started quite promisingly but were strangled out of contention. Remarkably for a contest between two class sides, Barcelona had about 70 per cent of possession as Xavi, Andres Iniesta, Lionel Messi and co. wove through Manchester United, relegating Alex Ferguson's famous side to bystanders. There were no excuses from United, so at least the world was spared a Ferguson tirade. Like any soccer lover, the legendary United manager could only admire a breathtaking performance by the Spanish giants which gave them a third title in six years and a claim to being the best ever.