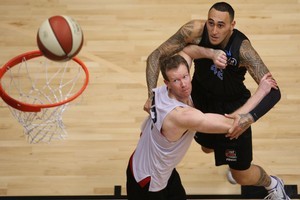 He's turned games the Breakers' way with blazing cameos off the bench ... then been ejected for fighting. Leon Henry is covering the extremes in his breakthrough season.
"Man, it has been a circus," says the swingman. "It has been a bit of a crazy run so far."
It's no surprise Henry has been packing a lot into his season. Drafted in as a replacement for Kirk Penney early last season, he lost his spot on the roster when Penney returned from his unsuccessful NBA tilt.
But the Breakers had seen enough from the 26-year-old Wellington Saint and Tall Black to want to keep him around.
League rules meant he could return to the roster only if Penney dropped out. That wasn't going to happen, so Henry became part of the club but not part of the team. He would scrimmage all week, then take a seat on game days.
"At the time it was kind of tough," he recalls. "I was excited just to get the call up first of all. But with Kirk coming back I had the mindset to stay positive, keep my head down and keep working and hopefully my time would come next year.
"I got itchy feet just sitting there the whole year watching the games, but I am happy that I did it and thankful that I am here now."
So are the Breakers. Long of limb at 2m tall and with a sweet shot, Henry is the perfect back-up to Tom Abercrombie.
"He shoots the ball well and can get hot," says assistant coach Dean Vickerman. "He has got a hot level where if he makes one or two he can turn on four or five. He has done that in the New Zealand league to just bust games open.
"He has to continue working on his defence but with his length and athleticism in the three spot, with him and Abercrombie there, that is something to deal with."
Henry was eventually rewarded with a full contract after Penney's departure to Spain. After a hugely impressive pre-season he was set to finally unleash, only to be struck down with a stress fracture.
Now healthy, he is clearly making up for lost time. In a high-energy season debut against Cairns he pulled in four offensive boards and knocked down a clutch three-pointer.
Next time out, against Melbourne, he drained three three-pointers to help the Breakers post a thrilling double-overtime win. He was thrown out after going to Cedric Jackson's aid in a scuffle against Gold Coast, and then went 0/7 from the field on his first road trip.
That game provided a reality check, with the Adelaide crowd "getting on him" as his shots clanged off the rim.
"It took us maybe 10-12 hours just to get there and my body wasn't used to it," he said. "I got out on the court and missed everything. Hopefully this week I'll make one."
Auckland-raised, Henry is a Tab Baldwin product. A league player in his younger days, he discovered basketball as a 12-year-old at a holiday camp run by the then Auckland coach.
He wasn't, he says, that into it. But when other kids began to fill out and he remained tall and skinny, basketball became a natural direction to follow.
Baldwin gave him a Tall Blacks trial when he was 18, and then a professional contract in Romania after two years of junior college in the States.
A star in the NZNBL in recent seasons with the Saints, Henry caught the Breakers' eye on a Vickerman-led pre-season tour to China last year.
He was named MVP in a squad consisting mainly of prospects, and later signed as cover for Penney.
While his look and his game are loud, Henry comes across as a quiet type. His long-time girlfriend is singer Aaradhna, an R&B artist who is about to release her third album.
The sports star/singer couple would seem a natural for the women's mags but Henry shuns that type of publicity.
"I don't talk about it much. There are a lot of people who go in New Idea and Woman's Day - I am kind of shy and like to keep away from all that kind of stuff."
He may be happier in the background, but if he keeps playing the way he is, the spotlight will find Henry soon enough. The club is all-but resigned to losing Abercrombie to bigger and more lucrative things next season, so more doors may be about to open.
For now, though, Henry just wants to play.
"I am just looking forward to getting back out on the court against Cairns [tonight] and hopefully getting a win."