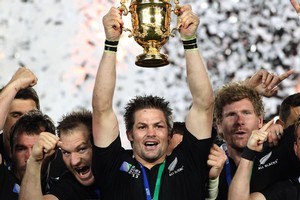 The All Blacks picked up the one prize they really wanted this year and are likely to add to their spoils at next year's Halberg Awards after the nominations were released today.
The 2011 World Cup winners will be favoured to win the overall Supreme Award, Team of the Year, Sportsman of the Year and coach of the year. Jerome Kaino and captain Richie McCaw are both nominated in the sportsman category and Graham Henry in the coach category.
This year the All Whites dominated the awards after going through the football World Cup in South Africa unbeaten. The footballers won the Supreme Award and Team of the Year and Ricki Herbert won Coach of the Year but McCaw beat skipper Ryan Nelsen to Sportsman of the Year.
McCaw's performances on the pitch in 2011 were not great by his standards due largely to his injury problems but, although Kaino was honoured with the top award at this month's New Zealand rugby awards, McCaw's leadership under extreme pressure was a big factor in the All Blacks winning the World Cup for the second time.
Next year's awards, which will be held in Auckland on February 9, will again feature a "New Zealand's favourite sporting moment" category, which will be determined by a public vote.
The category finalists will not be confirmed until the New Year so late performances by individual athletes or teams during 2011 can still be considered. World champion shot putter Valerie Adams, a five-time winner of the sportswoman award _ including this year _ faces competition from triathlete Andrea Hewitt, who strung together three World Cup victories including last month's event in Auckland.
Among the top competitors in the Sportsman of the Year award are world champion rower Mahe Drysdale and Kirk Penney, who helped his former Breakers club to their inaugural NBL title victory this year.
All are worthy nominations and there is less likely to be the controversy of this year when judge Dick Tayler, a former winner of the award due to his efforts in winning the 1974 Commonwealth Games gold medal in the 10,000m, resigned in protest at the All Whites' success.
"They didn't get my vote and they were well away from it," he said of the All Whites, who drew three matches but did not win in South Africa. "I'm absolutely irate, almost speechless."
Tayler had said he felt the same about the Tall Blacks getting the supreme award after their fourth placing at the world basketball championships in 2002.
A panel of 28 people, made up of former athletes and journalists, vote on the awards.
The full list of nominations for the 2011 Westpac Halberg Awards:
Sportsman of the Year
Hayden Paddon (rallying), Kirk Penney (basketball), Richie McCaw (rugby), Jerome Kaino (rugby), Mahe Drysdale (rowing), Simon Mannering (rugby league), Carl van Roon (Taekwon-Do), Aaron Larkin (water skiing), Shane Archbold (cycling), Jesse Sergent (cycling), Marc Willers (cycling), Sam Blenkinsop (cycling), Mark Todd (equestrian) and Jacko Gill (athletics).
Sportswoman of the Year
Lisa Carrington (canoeing), Valerie Adams (athletics), Andrea Hewitt (triathlon), Kayla Sharland (hockey), Jo Edwards (bowls), Linda Villumsen (cycling) and Sarah Walker (cycling).
Team of the Year
Black Sticks women (hockey), All Blacks (rugby), NZ Breakers (basketball), Nathan Cohen and Jason Sullivan (rowing), Eric Murray and Hamish Bond (rowing), Juliette Haigh and Rebecca Scown (rowing), Junior Warriors (rugby league), Hayden Paddon and John Kennard (rallying), women's team pursuit (cycling), NZ Warriors (rugby league) and Black Caps (cricket).
Halberg Trust Disabled Sportsperson of the Year
Carl Murphy (para-snowboarding), George Thomas (para-canoeing), Daniel Sharp (para-swimming), Jayne Parsons (para-cycling), Michael Johnson (para-shooting), Sophie Pascoe (para-swimming) and Susan Reid (para-cycling).
Coach of the Year
Graham Henry (rugby), Dick Tonks (rowing), John Ackland (rugby league), Steve Pellow (Taekwon-Do), Brendon Cameron (para-cycling), Roly Crichton (para-swimming), Dayle Cheatley (cycling), Gordon Tietjens (rugby) and John Wright (cricket).
- APNZ