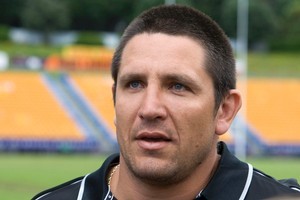 He's arguably New Zealand's favourite Australian and now Steve Price's daughter has the chance to carry on the family tradition.
Jamie Lee Price was last week named among the 26 trialists vying for a spot in the New Zealand secondary schools netball team.
The Mt Albert Grammar defender is one of a number of notable sporting names who will trial in April next year with the aim of taking on Australia in the trans-Tasman secondary schools tournament to be held in Adelaide from May 25-June 2.
Others include Olivia Coughlin, granddaughter of All Black Tom Coughlin, Elisapeta Toeava who is the sister of All Black Isaia Toeava, Shekynah Clarke, who is the daughter of former All Black Eroni Clarke, and well as Shekynah Clarke, the niece of former Silver Fern Sheryl Scanlan.
Steve Price played 28 games for Queensland and 16 tests for Australia in a successful rugby league career and, unlike most Australians who play for the Warriors, chose to stay in New Zealand once his career ended.
The 37-year-old and his family are settled in central Auckland and, although he says they will move back to Australia at some stage, he still can't believe how loved he is by Kiwis.
Maybe Quade Cooper could take a few tips from Price on how to win over the New Zealand public.
"It's a funny one because you know what Kiwis think of Aussies at times," Price said. "You're either the most loved or hated person in New Zealand.
"But it's awesome. We've been really liked since we've been here and very welcomed in every community we go to which is part of why we are still here. It's been probably the scariest part of our move [how we would be received] but it's also exceeded any of our expectations that we had."
After a chronic heel problem forced him out of the game, despite extensive attempts to fix the hoof, Price capitalised on his public profile off the field and is involved with a wide array of ambassadorial and speaking roles.
"I'm really enjoying it. It's getting busier and busier and it's really enjoyable doing something so different that's sort of also challenging.
"You've got to move on and I have. I mean, I loved doing what I did for so long and you'd love to go on forever but the reality is you can't and I was very lucky to go on as long as I did."
His wife, Jo, is close to completing her primary school teaching degree at Auckland University, while their three kids, Jamie Lee (15), Kasey (13) and Riley (10) are all settled at school.
Jo has two years of work in New Zealand to complete before she is fully registered as a teacher, while Jamie has designs on playing netball for New Zealand.
"If she's good enough, I'll fully support her and she, like anybody else, wants to the best at her sport in her age," Price said of his daughter. "So to do that you've got to play for New Zealand, so if she's good enough to be chosen, absolutely."
Price himself also represented New Zealand earlier this year when he was part of the national over-30s team who played against Australia in a tag football series.
The former Warriors' captain has a masters in business management from Southern Cross University in Australia and next year will begin working towards a graduate diploma in law via correspondence.
He has no designs on being a practicing lawyer, but said he wanted to understand that side of business as he works towards his long-term career plan away from football.
"My goal one day is to be a CEO of a corporate or sporting organisation," he said. "It just depends on opportunities and how things are going. But we will move back to Australia at some stage. It's just a matter of when. Obviously all our family's back there and all that sort of stuff. But it could be two years, five years or 10 years. Who knows?"
- APNZ