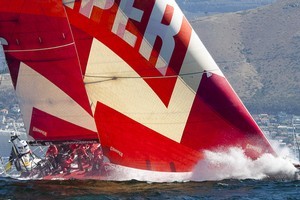 Day 2 of leg 2 and we are reaching along the coast of South Africa, 12 knots of wind, wearing just shorts and tee shirts on deck. Definitely not your traditional start to Leg 2.
This time in the last race we were hanging on for dear life running in 30- 50 knots of wind.
The exit from Cape Town was fairly typical after a lap around the bay it was up wind past Lions head, Camps Bay and down to the Cape of Good Hope. The boats working the shoreline made the early gains but ultimately when the breeze softened on the first night the advantage was held by the offshore boats- Groupama and us.
So a very tricky first night of sailing including at least one position report where every boat averaged less than 1 knot towards the mark. I don't recall every seeing such slow progress in a Volvo 70 fleet.

Now we are enjoying the sea breezes along the coast and settling into our normal routines.
Although this may not last for long as we are expecting another very soft evening of sailing. The wind seeker will no doubt be out again as we try desperately to coax every 10th of a knot from Camper.
Sailing in these conditions can be just as stressful as strong winds and even more so when the whole fleet is in sight.

The next few days remain complicated and we have a lot of hard work to do before we have any settled conditions. Still a lot of easting to make before we commit to the big turn north towards our final destination.
As I sign off and go and get some rest, we are in second place with the lead boat Groupama just a few hundred metres ahead of us. We are all pushing hard to peg back the gap. We also have Puma close behind breathing down our necks so we are doing our best to shake them as well.

We have just gained 70 metres on Groupama while I have been writing this.
Keep up the good work guys!