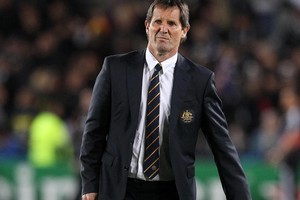 With the Rugby World Cup gone begging and now his closest ally on the way out, Robbie Deans suddenly looks on borrowed time after another year of largely unfulfilled promise for the Wallabies.
Rightly or wrongly, Deans will be a dead man walking when his extended contract expires at the end of 2013 if he fails to deliver Australia a long overdue Bledisloe Cup in the next two years or a series triumph over the British and Irish Lions in 18 months' time.
But even successes of such high note may not save the former All Black after Australia's lame World Cup campaign in New Zealand led to a chorus of calls for change.
Despite the Wallabies ending 2011 as the world's No.2 behind the mighty All Blacks, a RWC bronze medal playoff win over Wales and repeat defeat of the Red Dragon in a money-spinning Test in Cardiff were too little too late for diehard fans and former greats.
It wasn't so much the Wallabies' inability to bring home the Webb Ellis Cup that left a sour taste, but more Deans' dour tactics and questionable World Cup selections.
Australian rugby supporters are among the hardest task masters in the country and the Wallabies' meek semi-final loss to the All Blacks, after a similarly uninspiring quarter-final victory over the Springboks, was too much to take.
After building a vibrant young backline that was the envy of his rivals - and which only a few weeks earlier helped Australia to Tri Nations glory - Deans ditched his attacking game plan for a conservative approach that both dismayed and disappointed.
After encouraging his Wallabies for three-and-a-half years to ``play what's in front of them'', Deans deserted his attacking mantra and demanded star halves Will Genia and Quade Cooper play a field-position game in the pressure-cooker knockout matches.
The kick-fests in Wellington and Auckland for the biggest two matches of his 56-Test reign were a far cry from the stylish rugby Deans promised when he was named Australia's first foreign coach.
"I think Australia historically has been renowned for innovation and initiative and attack and I suspect that some of that has just dropped off the radar a wee bit,'' Deans said back on December 15, 2007.
"I think that's a direction I'd like to go and play a style the players enjoy playing.''
Alas, it wasn't until Deans released the shackles at the global showpiece's meaningless third-place playoff that the 2011 Wallabies began to shine.
Significantly, Australia's sparkling form returned when Deans finally injected Berrick Barnes into the fray and the classy playmaker combined beautifully with frustrated winger James O'Connor in the midfield.
With injured first-choice five-eighth Quade Cooper also missing the Wallabies' season-ending tour of the UK after breaking down early in the bronze-medal match in NZ, O'Connor relished his long-craved move to flyhalf in Australia's back-to-back wins over the Barbarians and Wales.
Barnes continued to excel alongside O'Connor and the dynamic duo will give Deans plenty of food for thought when Cooper returns from his knee reconstruction, probably in time for Australia's opening Test of 2012 against Scotland in June.
His critics - and those pushing for Queensland's title-winning Super Rugby coach Ewen McKenzie to succeed Deans - will closely monitor how the Wallabies' incumbent mentor deals with key selection issues in 2012.
Deans' non-selection of a back-up openside flanker for champion breakaway David Pocock, which came back to bite the Wallabies in their costly World Cup pool loss to Ireland, and discarding of 92-Test playmaker Matt Giteau, who would have been a useful alternative for the shaken and out-of-sorts Cooper, raised plenty of eyebrows.
The great irony of Australia's flawed World Cup campaign was that Deans persevered with the creative Cooper at the business end of the tournament even after retreating into a negative mindset.
Just as Deans, as assistant coach, and John Mitchell opted for Cooper's enigmatic childhood idol Carlos Spencer as New Zealand's chief playmaker at the 2003 World Cup.
Eight years on and the outcome proved eerily the same, with Cooper having a nightmare in Australia's semi-final loss to New Zealand after Spencer threw the intercept for Stirling Mortlock's famous try that inspired the Wallabies' semi-final win over the All Blacks in `03.
John O'Neill trumpeted Deans as a potential saviour when he appointed him to the Wallabies post, but the ARU chief is riding off into the sunset in 2013 and will leave the Kiwi's fate in other hands.
Deans admits to feeling the pressure.
"I am human, I hear,'' he said on the Wallabies' season-ending tour.
"While there are some outcomes we've achieved, we're ultimately unfulfilled and frustrated. We're still second-ranked in the world.
"We've had an insight into how difficult that is going to be to change. But I think we're a group that is capable of it.
"To become No.1 we've got to beat the All Blacks. We did it in one instance and picked up the Tri Nations final.
"We failed at the ultimate rugby event, the World Cup, so they retained that status.''
Whether Deans retains his status as Wallabies coach beyond his current deal depends squarely on his capacity to win back support in the coming two years.
There is no doubt he has taken the Wallabies forward with some daring choices amid a sweeping generational change; Queensland centre Ben Tapuai this month was the 32nd Wallaby he's introduced to the Test arena.
Promise, though, counts for nothing when rugby's most prized trophies continue to elude Australia and Deans must stay true to himself and the Wallabies when the stakes are at their highest to win back the court of public opinion.
And remain in the job for another World Cup tilt in 2015.
- AAP