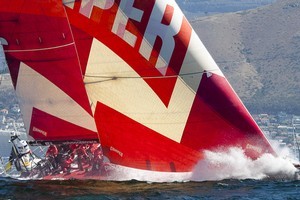 Leg two of the Volvo Ocean Race from Cape Town to Abu Dhabi has got underway this morning with some complex decisions looming in the first 48 hours for Team New Zealand boat Camper.
Camper was second out of Table Bay after the inshore aspect of the leg in a steady localised 15 to 20 knot south westerly breeze.
FOLLOW THE ACTION - VOLVO OCEAN RACE TRACKER
However that breeze is expected to soften in the next 12 hours, leaving the fleet facing a complex and unstable weather picture over the next few days.
The tactical minefield presented as the boats head south east around the Cape of Good Hope and into the Indian Ocean offers a real headache for navigators, but also the opportunity if picked correctly to cement in an advantage over the rest of the fleet.
With more than 5000 miles to go, leg two promises to offer a variety of challenges from the tricky scenario of the next few days to potentially boat breaking conditions as the boats head south east and then the squally and high variable weather associated with the Equatorial region.
Camper now settles into two weeks of ocean racing with arrival at the undisclosed location of `Point A' not expected until late December.
The route has been redrawn for the second leg because of the threat of piracy in the Indian Ocean, with the teams due to make for an undisclosed safe haven port and then be transported by heavy lift ship to a position off the Sharjah coastline in the northern Emirates.
From there they will sprint in to Abu Dhabi for the finish.
- APNZ