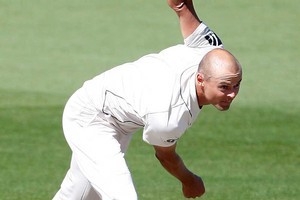 A decision not to seek a referral minutes after Australia's chase for victory began rebounded hard on New Zealand at Bellerive Oval yesterday.
The first ball of Chris Martin's second over was deflected by besieged opener Phil Hughes down the legside to wicketkeeper Reece Young.
He hadn't scored and New Zealand appealed. When umpire Nigel Llong turned it down, New Zealand took a punt not to chase a second opinion under the decision review system.
Hot Spot replays showed the ball brushing Hughes' glove. Perhaps New Zealand figured Hughes, so badly out of form and Martin's bunny in this series, would not last long anyway.
Maybe they wanted to keep their powder dry for later. Either way, it was a clanger of a non-call.
It may not ultimately affect the outcome, but New Zealand craved early success.
Rain cut the day short at tea and when the fourth day starts this morning, Australia, needing 241 to wrap up a 2-0 series win, will be at 72 for none, with David Warner on 47 and Hughes on 20.
"We think we're in a good position," Australian wicketkeeper Brad Haddin said last night.
No wonder.
Both batsmen had narrow escapes, french cuts sliding past leg stump, playing and missing and close lbw appeals, but they survived by different means.
The pugnacious Warner went aggressively at the ball with his clubbing approach, drove strongly and rode his luck. Hughes grafted hard and hung on.
The Australian reply was notable for three new balls being needed in the first 12 overs. The first two hadn't swung much; the third one did. However the bowlers were not on song as they had been in an excellent collective effort to roll the Australians for 136 in their first innings.
"We were just off a little bit this afternoon," New Zealand's bowling coach Damien Wright said last night, reckoning they had over-pitched too often.
"If you can challenge the Australian batters they're as vulnerable as everybody is to that moving ball." Earlier New Zealand were guilty of another dispiriting batting effort, as their last six wickets fell for 55 in a tick over 16 overs to be dismissed for 226.
What must the bowlers have thought of it all after their sterling work a day earlier.
Having begun the day at 139 for three, 153 ahead and with the pitch playing as well as it has throughout the match, New Zealand had aspirations of a lead of about 280-300.
Instead Kane Williamson drove at, and edged Peter Siddle's third ball of the day to second slip.
Ross Taylor and Dean Brownlie dug deep through a tough, unrelenting period of hard examination, chiefly from Siddle and James Pattinson.
The impressive Siddle put Brownlie through the wringer while Taylor had a second life on 48, fast-medium James Pattinson dropping a sharp return catch.
However when Taylor and Brownlie - after being struck on the left wrist avoiding a short ball - departed in quick succession the tail folded meekly. There seemed to be a group order to hit out.
Tim Southee struck a six and four from offspinner Nathan Lyon before holing out to long on next ball. It didn't seem the smartest play on his 23rd birthday.
Doug Bracewell's ill-judged slog-sweep two balls later left Trent Boult to strike a lusty 21 in a hurry. He also managed the noteworthy feat for a No 10 of having five fielders on the fence.
The feeling persisted through the afternoon that a real opportunity had been squandered.