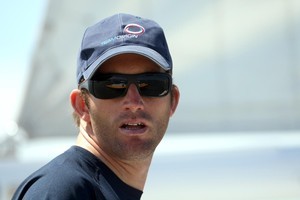 British sailing superstar Ben Ainslie claims his two-race disqualification for an extraordinary post-race attack on a media boat at the world yachting championships is a "massive over-reaction".
But he could have faced a two-year ban which would have put him out of his home Olympics next year after an International Sailing Federation (ISAF) jury found him guilty of gross misconduct.
The three-time Olympic gold medallist dived into the sea after completing the ninth Finn class race off Fremantle on Saturday, swam to the tv camera boat and hauled himself aboard. He was seen yelling at the driver of the boat, operated by the event broadcaster, accusing him of swerving in front of him during the race.
He then grabbed a cameraman and cast him aside, before diving back into the sea and swimming back to his Finn to start the next race.
"I got on the boat and I said to the guys 'you've got no respect'," Ainslie told journalists.
"Obviously I was very angry with the situation."
Ainslie was leading the world championship by eight points but his disqualification from both of the day's races cost him any chance of a medal, let alone a record sixth world title.
- AAP