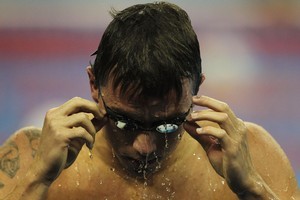 Swimmer Daniel Bell has changed coaches in a bid to help him qualify for next year's London Olympics.
Bell had been coached by Swimming New Zealand (SNZ) high performance coach Scott Talbot but is now mentored by North Shore Swimming Club head coach Thomas Ansorg.
The 21-year-old failed to set an Olympic A qualification time in his specialist 100m backstroke at the world championships at Shanghai in July. He finished 23rd, missing the semifinals. It is the event in which he won silver at the Commonwealth Games.
Bell set the exact A qualifying time (54.40s) at the national championships in April. However, the meet was not deemed as an official Olympic qualifying event by SNZ. Bell is still likely to be selected for London on the basis of setting B times, especially given he is the recipient of a New Zealand Olympic Committee scholarship worth around $36,000. Only four New Zealand swimmers to date - Lauren Boyle, Gareth Kean, Melissa Ingram and Glenn Snyders - have set A qualifying times in seven individual events for the London Games.
In May, Bell was granted the opportunity to train with the University of California Berkeley - the United States collegiate champions - for eight weeks on his way to the world championships. It is understood he invested some of his Olympic scholarship to do so. The trip was arranged by Talbot through his relationship with the UoCB men's coach Dave Durden. The pair were team-mates at Auburn University.
It is unusual for a non-student swimmer to get into a National Collegiate Athletic Association (NCAA) swim environment and Bell enjoyed his time so much he wanted another stint. He asked Talbot to facilitate a return but eligibility rules, such as the understandable requirement for athletes to be enrolled in the curriculum, meant it was not possible.
Bell has since severed Talbot as his coach to work under Ansorg. Ansorg (48) helped coach the New Zealand team at the Athens and Beijing Games and believes he can return Bell to the Olympic fold in seven-and-a-half months. That's despite Bell's larrikin reputation which has seen his behaviour and use of alcohol come in for questioning at an Olympic Games, world championships and Commonwealth Games.
"I don't think Daniel has a drinking problem," Ansorg says. "He has trained hard and competed hard in the past and who would not want to let loose after that? I'm not condoning his past behaviour but most of us have been there to some extent, so I'd be reluctant to judge. He has been brand marked 'a bad person' but I'm not buying that.
"Since returning to train with the North Shore club, Daniel has been nothing but helpful. He helps out younger kids, does some time-keeping and works in the Swimmerbro [gear] shop. He pays his coaching fees like anyone else.
"Yes, he might need to polish his image a bit but he's a normal guy in this squad. I've had a number of sarcastic well-wishers, but he's one of our best swimmers and it'd be weak to drop him because he might be a bit different. He needs friends and family to support him like anyone.
"Everyone in the squad is looking to him; he's potentially a hero without being a superstar. I wouldn't let him be one either. I will support him all the way but if there's any prima donna stuff he'll need to be kicked behind the knees. I don't care what was, I only care what can be. I believe in Daniel Bell."
Ansorg says training at club level rather than with the high performance squad should have no ill effect on Bell's Olympic aspirations.
"Athletes have got to have a life which goes beyond swimming; high performance comes from the heart, they can't be machines. Club programmes have worked in the past. Look at Gareth Kean under Gary Hurring's tutelage in Wellington or Danyon Loader with Duncan Laing in Dunedin."
Ansorg says Bell is competing at the Swimming Auckland meet this weekend but not in any backstroke events. He is looking to compete in some Australian competitions in the New Year and the Australian Olympic trial heats in March, provided SNZ is granted permission for its athletes to enter.