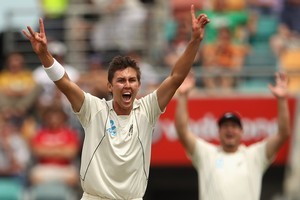 Transition was supposed to be the state both Australian and New Zealand cricket teams were in - but, on a remarkable second day yesterday, Trent Boult's debut in Hobart has shown that the Black Caps' bowling attack might be moving a little beyond that.
Boult's introduction to test cricket was highly encouraging, snaring Mr Cricket, Mike Hussey, as his first wicket.
The left-arm swing man played one game in Canberra early in 2009, got slapped about to the tune of 56 from 6.5 overs against a Prime Minister's XI and was sent to Coventry - okay, Hamilton and Northern Districts.
Boult, 22, has a national contract, John Wright clearly likes what he's seen, and Boult certainly showed enough yesterday to suggest the future looks bright.
When New Zealand arrived in Australia, Boult's best chance of a test was in Brisbane. But the untimely hamstring injury for Dan Vettori opened a belated door, shortly before the toss in Hobart, and he's taken his chance.
You wonder if this might be the start of something special for the young man from Rotorua.
Now consider Otago's Pretoria-born left armer Neil Wagner - 51 Plunket Shield wickets at 18.15 last summer; 19 at 26 from the early part of this season - is eligible for New Zealand from April.
So now put Tim Southee, Doug Bracewell, Boult and Wagner in a pot, give it a stir, then plonk Chris Martin on top.
The ageless, indefatigable Martin continues to defy the years, and right now New Zealand need Martin bounding in, arms pumping. He turned 37 yesterday and he was top class.
When he took his jumper to end his first spell, Martin had taken three for 28 from 11 overs, all three coming from edges of left-handed Australian bats.
Just when you look for signs that the end is nigh in his 11th season of test cricket, Martin comes up with a performance which says, 'just hold that thought right there'.
He was the inaugural winner of the Sir Richard Hadlee Medal a few weeks ago as the country's player of last season, keeps himself in top shape, and remains the leader of the attack.
Martin talks of international cricket now being a season-by-season proposition, tires of answering questions on when he'll pull the pin, just as his humour over his ghoulish batting record - 32 test ducks and, like an Edmonds Cookbook recipe, sure to rise - has about run dry.
Youth is all well and good, but a bit of the wise old head certainly doesn't hurt either.
Meanwhile, Dean Brownlie already looks part of the New Zealand batting furniture after five innings.
The Perth born and raised 27-year-old made a controlled, gritty 56 to stand above the wreckage of New Zealand's 150 on Friday on a pitch which looked more like a lawn, bright green and the sort seamers would like to roll up and carry around the globe.
Halfway through Hobart, his test record reads 61, 3, 77 not out, 42 and 56. His average is 59. He may insist he doesn't feel he belongs; his numbers, albeit at a very early stage, tell another story.
Frankly, within the parameters of this New Zealand team's batting framework, Brownlie looks a top selection by coach Wright. How he must still quietly give himself the occasional pinch to confirm where he is.
Before the first test in Brisbane, rival captains Ross Taylor and Michael Clarke found common ground on one issue: both teams were in a period of transition.
In Australia's case, theirs is partly due to injury. Shorn of five frontline players for both New Zealand tests, they introduced a new opener, David Warner, and two fast-medium bowlers, James Pattinson and Mitchell Starc for debuts at Brisbane.
Australia is positively slathering at the prospect of the lively Pattinson - two bags of five wickets in his first three test innings - teaming up with 18-year-old Pat Cummins, recovering from a heel injury after a spectacular six-wicket haul on debut in Johannesburg three weeks ago.
They have a new skipper still bedding in his ways and policies, the current test in Hobart being his seventh in charge in his own right since taking over from Ricky Ponting.
And there's an off-spinner, Nathan Lyon, who has taken 19 wickets halfway through his seventh test, and already, in the understated Australian way, tipped as the nation's best off-spinner in 30 years.
New Zealand, too, have a skipper finding his feet in the big game.
Taylor is halfway through his third test in charge and several players are very much in the tentative stages of their test careers.
But the bowling may be beginning to build towards something other than tentative.