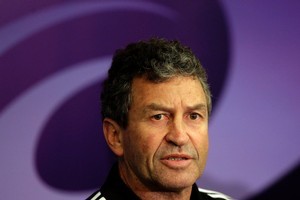 If they could, the New Zealand Rugby Union wouldn't mind reverting to the bad old days and reintroducing the so-called 'Graham Henry' clause.
Back in 1998, after Henry famously announced he was heading to coach Wales (and going that night), the NZRU decreed that anyone who coached a foreign national side could never hold the All Black job. They reneged on that petulant stance a few years later but protecting their best coaching capital has again become a pressing issue.
The World Cup was a potent demonstration of the power and influence New Zealand coaches hold across the globe.
Of the four semifinalists, three were coached by New Zealanders. Then there was Kieran Crowley with Canada, John Kirwan with Japan, Henry Paul with Russia, Tom Coventry and Aussie Mclean with Samoa and, at a push, claims could be made on four-cap All Black Isitola Maka who coached Tonga.
It would seem inevitable that Kiwi coaches should find themselves in high demand. It would seem just as obvious that two of the three men who guided the All Blacks to glory in 2011 will be in particularly high demand.
Henry could land a director of role at any of the major European clubs. But that's not for him - his days of feeling the stress and adrenaline rush of match day are behind him and he's only interested in short-term consultancy posts that preferably enable him to dip a toe in the Heineken Cup without actually being directly accountable for performance.
Wayne Smith on the other hand hasn't emptied his tank and is keen to return to the UK following a successful period with Northampton between 2002 and 2004. He'll work with the Chiefs as technical director in 2012 but admits he's held talks with the RFU.
He has escape clauses in his two-year Chiefs contract and the decision by the RFU to appoint an interim coach for the Six Nations suggests they are hopeful that later next year, they will be able to lure what they see as the dream coaching team of Nick Mallet and Smith.
Such a prospect is making the NZRU decidedly antsy. Just last week chief executive Steve Tew said: "We would not be too pleased if any of our current coaches started coaching a major competitor quickly after leaving the All Black environment.
Smithy has said that himself, that there is a period of time where you're in possession of a whole lot of intellectual property whether you like it or not and you wouldn't want to use that to your advantage against the team you've been coaching for a long period of time."
The prospect of legislating against that with restrictive clauses in future contracts is negligible. Restraint of trade is all too easy to argue in employment law and as has been proven in other cases, contracts, even supposedly watertight ones, can be broken with little recourse for punitive measures to be applied.
Besides, no one should be particularly concerned about Smith heading to England, should it happen. If anything, it is reason to rejoice. World rugby needs a strong England - they are a key driver of global commercial interest and everyone benefits when they are at the top of their game.
Smith might know the intricate detail of the All Black game plan now but rugby never stands still. What worked this year probably won't next and then there is the not inconsiderable issue of England needing much more than a jazzy set of starter moves.
Everything within the RFU appears to be broken - the administration is hopeless and arrogant while the players have been portrayed as celebrity-hungry and money-driven. The English have no foundation on which they can build a culture of excellence.
Good luck to Smith if he and Mallet are the men tasked with responsibility for doing that. It took the All Blacks four, maybe five, years before their player-driven model of leadership was consistently effective. It took the All Blacks the same length of time to drum out the bad habits of old - the Playstation generation of couch dwellers and TAB inhabitants.
Rugby sides are never about revolution; it's always evolution that takes them places and England will be no different. The culture of excess, the attitude of it not being cool to train hard and the obviously low personal standards that have been deemed acceptable will not be exorcised quickly. Whether it is Mallett and Smith or anyone else in charge, England will be doing extraordinarily well if they are a fulfilling their potential by the next World Cup.