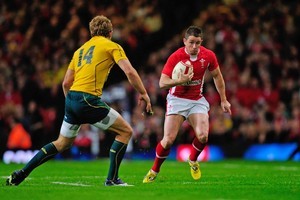 These summer months are the time for New Zealand's youngest and brightest rugby prospects to build and buff; to develop the power base deemed imperative to cut it in this part of the world.
Not so long ago, it would have been correct to say 'even the wings' are expected to be pumping the weights and adding muscular weaponry to their repertoire. Not now. These days, it's a case of 'especially the wings'.
Once a safe haven for the stick-thin - Terry Wright, Rob Egerton and the like; men who relied on pace, agility and natural football instincts - somehow the absurdly giant hijacked the flanks and, in New Zealand at least, they have taken permanent residence.
John Kirwan in the 1980s, then Inga Tuigamala in the early 1990s were the first to open minds to the concept of macro wings and then of course there was Jonah Lomu, who changed the mindset of every coach in the world game.
New Zealand hasn't given a second thought to the little wing for the past 20 years - which is why there was such joy twinned with regret when the diminutive Shane Williams signed off last weekend.
The 34-year-old Welsh wing fittingly ended his 87-test career with a skip and a hop to glide past Berrick Barnes and score a try in the last act of the test against the Wallabies.
It was typical Williams - titchy-tiny slip of a thing at 1.70m and 80kg. He is only as big as one of Lomu's legs and yet Williams scored 58 test tries in a career that spanned 11 years and saw him crowned IRB Player of the Year in 2008.
His ability to manoeuvre past the juggernauts he encountered was his key strength. His feet would be a blur, his direction impossible to predict and his agility fitting of a man with the dimensions of a gymnast. Williams was so often the Welsh saviour; the man to dance past a few static defenders and change the outcome of a crucial test.
Yet for all that Williams achieved, there was always a sense of him being marvelled by the New Zealand rugby fraternity as an oddity of the old world. No one quite said it but everyone here took one look at Williams and thought he was too small.
Some of that was understandable given the way Williams was tossed about during the British Lions tour of 2005. Ali Williams clobbered him in one test with such force that it was a miracle the smaller man managed to get up. It was thrilling to see such a physical mismatch - every New Zealander glad they were the one with the weight and power advantage.
In 2008, when All Black assistant coach Wayne Smith was being quizzed on the forthcoming test against Wales on November 22, he was effusive in his praise of Williams and the dangers he posed on the left wing. But he made it just as clear that the All Blacks were unlikely to ever be bold enough to select someone that size.
Facing Williams that day were Joe Rokocoko and Sitiveni Sivivatu - both 103kg and a respective 20cm taller than Williams, which presented ground and aerial assault opportunities.
It was the Welsh forwards who were beaten up and vulnerable in the All Blacks' 29-10 victory - Williams was the threat Smith said he would be and in a career-sense, he outlasted and out-scored the two Fijians he faced that day.
Not renowned for his measured sense and good judgement as a post-match analyst, it was Wales defensive coach Shaun Edwards who made the most memorable comments on Williams last week.
"Undoubtedly he is an all-time great of the game," said Edwards. "Shane is like a symbol of hope to anybody who wants to play rugby. That no matter what shape or size you are, if you are good enough and determined enough you can make it.
"Obviously players are getting bigger and bigger and bigger. If you compare the size of players now to those 30 or 40 years ago, there is no comparison. But you get a guy who is small in stature but big in ability and big in heart and determination and you can succeed."
Williams was irrefutable proof that the little man still has a place but what chance of seeing his like again any time soon? The nearest equivalent in New Zealand is Kade Poki but even he's 10kg heavier than Williams and, despite his heroics with the Highlanders last year, wasn't able to convince the Crusaders earlier in his career that he was big enough or good enough.
Williams would have had no chance of making it to the test arena if he'd been born in New Zealand. Even in Wales, it was challenging enough to prove himself at first - an initial weight-gain programme was eventually abandoned when Williams' hamstring kept pulling as a result of the extra bulk. The Welsh made peace with his size and came to value it as his greatest weapon.
But Williams is likely to be the last little wing. The new hero of Welsh rugby is George North, who is at the other extreme. He's 1.92m and 105kg. England have employed the 1.98m, 118kg Matt Banahan; Samoa's star was the 120kg Alesana Tuilagi; Australia have got Digby Ioane up to 97kg and the All Blacks varied their World Cup wing selections around the 102kg Richard Kahui, 110kg Sonny Bill Williams, 100kg Isaia Toeava and 100kg Israel Dagg. The star man was Cory Jane at 90kg and he'll probably come to be viewed, in time, as being as freakishly small as Williams.
Jane's hardly small, though, not like Williams whose retirement brought the curtain down on a great career and hailed the end of the little wing. Such a diminutive figure won't be seen in a No 11 jersey for years to come.