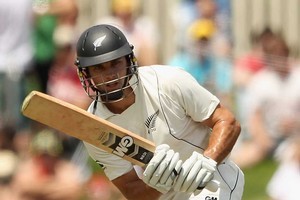 Out the back during the lunch break, the kids were enjoying a coconut shy at sets of stumps rolling past, carnival style.
They were having about as much luck as the New Zealand batsmen were at making meaningful contact with their target out in the middle yesterday.
Having lunched at a parlous 83 for six, New Zealand, sent in on a Hobart pitch dubbed the "Incredible Hulk" for its colour, were dismissed for 150 for the second consecutive innings.
And yet, before the rain arrived shortly after the final session began, New Zealand's bowlers showed this has the prospect of a fascinating contest today.
Australia will start at 12 for one, Chris Martin having probably ended Phil Hughes test career for the time being with his third straight cheap dismissal, caught for the third time in a row by Martin Guptill in the slips.
Martin and Trent Boult bowled beautifully, beating the bat frequently with swing and seam. If only the toss had gone the other way.
New Zealand needed that bit of luck, especially after the unsettling news that their most experienced player, Dan Vettori was ruled out by a left hamstring strain, and will be sidelined for up to four weeks.
He will miss some of the HRV Cup for Northern Districts but should be fit for the test against Zimbabwe in late January.
That meant a promotion for Reece Young to No 7, which he didn't take advantage of, and left arm swingman Boult coming in for his debut.
As important as the 106-test veteran Vettori's bowling is for New Zealand, right now they needed his batting. It might not have mattered the way the first two sessions unfolded on Bellerive Oval's jolly green strip.
"This isn't fair," an Australian writer remarked at lunch, as New Zealand tried to negotiate conditions seamers dream about.
There's no question New Zealand were on a hiding with the Australian seamers often getting unplayable movement.
The batsmen had learnt the mantra about leaving the ball outside the off stump, and yet they might have been better adopting more positive intent in such treacherous conditions.
Instead, three batsman chopped on to their stumps, openers Guptill and Brendon McCullum - having battled more than an hour and a half - got good deliveries; Jesse Ryder may have been unlucky with his lbw verdict, there being a suggestion of an inside edge, even after a look from third umpire Aleem Dar; Kane Williamson touched one down the leg side, and captain Ross Taylor shouldered arms to a ball which jagged back.
He was given out lbw, immediately sought a referral, which failed to save him. Had umpire Asad Rauf initally given him not out, the referral would have gone his way, such are the rules of the decision review system.
It was all over in 45.5 overs of seriously grim viewing.
The one exception over a calamitous three and a half hours was Dean Brownlie. Again. Having made 77 not out and 42 in Brisbane, he showed impressive poise and control in getting to 56. He was strong off his legs and punched hard through the offside, dominating stands of 45 with Doug Bracewell and 41 with Tim Southee.
He was clunked on the back of his helmet from the demanding and accurate Peter Siddle - the pick of the Australian attack, despite James Pattinson claiming his second straight five-wicket haul.
Brownlie, who lasted 114 minutes, reckoned it to be the toughest batting conditions he had encountered.
Would Australia have fared much better? Perhaps, if not by much, although it would have been a searching examination of their technique and temperament.
Today's first two hours, with similar conditions expected, should be compelling, and critical for New Zealand.
Bowl and catch well and they could still be alive by tonight.