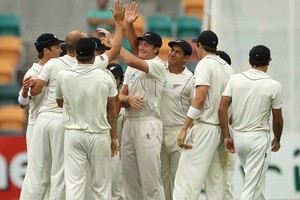 There was a lot more discipline than last week.
New Zealand batted pretty well yesterday. That probably doesn't read too well when you've just seen the top-order collapse for the third time in as many innings, this time all out for 150.
But they did play well. It was the sort of wicket where they were on a hiding to nothing. The application was there, they gutsed it out and I didn't see too many of them get out to stupid shots. There was a lot more discipline than last week.
The simple fact is that when the ball is deviating up to 31cm before it reaches the stumps, it's kind of difficult to play.
The irony is they would have posted a better total if they'd played like they did last week. But after the grief they have got for their poor, undisciplined performance at the Gabba, nobody was going to have the courage to make that call.
That's what I mean about them being on a hiding to nothing on that wicket.
The easiest way to survive on those wickets, rather than trying to back your ability to defend well, is to try to make them bowl badly by putting them under pressure.
You need a lot of audacity to make that call, but based on the evidence of last week, guys that have the game to put pressure on Australia - guys like Brendon McCullum, Jesse Ryder and Ross Taylor - did not have the confidence to do it.
You have to have a bit of sympathy for them on that count because if they did have a go and it didn't come off, they would have been torn to shreds.
I like the look of Dean Brownlie and just hope there is no pressure to move him up the order. He looks like a quality No 6.
He is tidy and organised. He has what I'd call a sustainable method of scoring runs and I can see him putting together big scores consistently.
He's not dour or boring, but he quietly accumulates with a reasonably decent technique.
Just because you're good in the middle-order doesn't mean you're going to be successful at the top of the order. In fact, it can often mean the opposite. I hope they have the good sense to let him develop into a world-class No 6, which he can be.