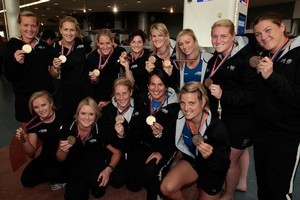 With a bulging diet of international fixtures - 38 matches in one year - the Black Sticks women's hockey team are on the go. With quantity eventually comes quality as they showed in claiming that deserved medal at July's Champions Trophy in Amsterdam.
The veritable feast of international matches - and the results that are coming with it - have shot the Mark Hager-coached team into the higher echelons of New Zealand sport.
It has been a team effort with no reliance on individual stars to take them along for the ride.
From the time they lost that heart-breaker to Australia in a penalty shootout at last year's Commonwealth Games in New Delhi and had to settle for silver, they have taken their refreshing brand of play to the world.
Teamwork has become the catchword. But Cat Finlayson may prove to be the goal-grabber every team needs to compete at the highest level.
In 35 caps since her debut in February last year, Finlayson, 23, has scored 10 times including a goal in every match of the three-test series with world No1 Argentina this year.
Generally, it has been Hager's demanding workload and emphasis on teamwork that has elevated this team to "must watch" status.
Encouraged by results against teams that at one time they might have been afraid of, the Black Sticks are carving their own niche in New Zealand sport and giving young players a target.
There is no doubt Hager has played a huge part in this turnaround with his "done well but can do better" mantra but in the end it is up to the players.
Their medal-winning effort against Korea in the Champions Trophy - after losing 5-3 to them in pool play - was a breakthrough Hager and the players had long chased and never given up on. Hager was as euphoric as the team but just as quickly had his feet back on the ground and was planning a next step towards what he foresees as even more success and kudos for a team of genuine battlers.