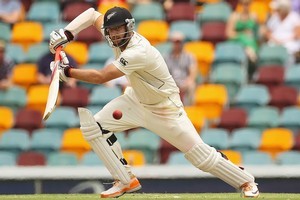 Not captain any more. Not enjoying it? Quite the opposite, actually.
Dan Vettori has slipped back into the role of being just another drummer in the New Zealand band - albeit in the front row rather than down the back - with even more ease than he'd thought he would.
Having led New Zealand in all forms of the game since 2008, Vettori stepped down, first as test captain after the two-test series loss to Pakistan last January, then from the short forms after the World Cup in March.
He walked away content that it was time to change his priorities. He's withdrawn from T20 and ODI cricket, but the 2015 World Cup - to be co-hosted by New Zealand and Australia - is a long-term goal.
Test cricket remains his game of choice. The Indian Premier League may pay more bills, but for pure satisfaction nothing beats the five-day contest for him.
Ross Taylor has led New Zealand to Zimbabwe and now Australia and Vettori is "immensely" enjoying his status as senior pro.
"I'm enjoying it far more than I thought I would," he said. "It's definitely different not being captain.
"I always knew I'd be able to slide back into being one of the guys but it has been relatively easy.
"That's because of the respect for Ross and his ability to take over the team and [coach] John Wright and the way they've led the guys."
Not having the stresses of leadership has given Vettori more time to help the younger players.
But what about out in the middle? Has he had the cricket equivalent of a trigger finger, wanting to initiate a bowling or fielding change and had to pull himself back?
He avoids getting in Taylor's ear.
"You've got to let the new captain stamp his mark and feel like he is in control. If an ex-captain is there offering advice all the time it is not going to work.
"Ross comes to me occasionally; I've been to him once or twice.
"But even at team meetings the voice needs to be heard on an individual basis rather than in front of the team because it is Ross' side."
As captain, Vettori felt responsible not only for his own performance but that of his team.
Now, he says: "When you walk out you still feel the weight of what's happened, but you can narrow it down to your own game and what you need to do and you don't have to think much further than that.
"You still think like a captain but the responsibility is not there."
Vettori's test captaincy record was average - six wins from 32 matches, but only two, against England at Hamilton in 2008 and Pakistan in Dunedin last year, were against teams other than Bangladesh.
But his numbers as a player are remarkable.
Having become New Zealand's youngest player at 18 years 10 days in 1997 against England, Vettori is still going strong and heading into his 20th test against Australia and 107th overall today. He is second among New Zealand bowlers, with 354 wickets, and fifth on the batting list with 4343 runs at 30.8.
The four above him were all pure batsmen - Stephen Fleming, Martin Crowe, Wright and Nathan Astle.
Sir Richard Hadlee's 431 wickets in 86 tests is in his sights, but Vettori knows his place.
"Everyone acknowledges he's one of the greatest bowlers of all time. If I do get that record it's probably an achievement of longevity as opposed to what he brought to the table."
Vettori likes the fact that "my cap looks about 100 years old".
Perhaps the most impressive part of his game right now is his batting, which has made huge strides in the past few years.
He knew he underachieved in the early part of his career, so he set about doing something about it.
Since 2008, Vettori has averaged 40 - 10 runs above his overall average, and often pulling his team out of a deep well - and has taken 123 wickets at a couple of runs better than his career mark of 33.39.
He was at No 7 last week in the defeat in Brisbane, making 96 and 17, running himself out when he had a seventh test ton, and first against Australia, for the taking.
"I've done some work with Wrighty and [assistant coach] Trent Woodhill and it's felt the best it has in a long time.
"And particularly around leaving balls. That's an area where I get myself in strife sometimes and I think I 'left' the best I have in my whole career in that last innings.
"The last three tests I bowled 40 overs in each innings. It is a big workload but I feel like I'm used to it and comfortable with it.
"I felt I pulled up all right [in Brisbane] and didn't feel like it was detrimental to my batting at all. Touch wood I can keep that going."
The amount of cricket played by the main nations is reaching breaking point. But New Zealand have just returned from six months off, their longest break in years.
Vettori is in the camp which believes ODIs are most vulnerable of the three international forms.
"It varies from team to team. It's hard to sit here and say we've got too much cricket, but if you put an Indian or Australian cap on, then they may have different views. They've played an immense amount of cricket and will continue to play that.
"We want to play as much test cricket as we can. We want to play three-test series. The one that's most likely to give is the one-dayers."
Vettori is 32 and is in no hurry to step aside, but he likes what he sees among the spin talent in New Zealand domestic cricket.
Apart from those who've had international experience, such as offspinners Nathan McCullum and Jeetan Patel, and allrounders Luke Woodcock and Rob Nicol, he is encouraged by what he has seen and heard from around the domestic traps.
Names such as Canterbury legspinner Todd Astle, Tarun Nethula at Central Districts, young Northern Districts prospect Mitchell Santner and Auckland offspinner Bhupinder Singh are reeled off.
"I see a lot of guys coming through, and I do see it as healthy. In all the time I've played this is probably the most depth we've had, with all bowlers.
"If we develop those bowlers it will hold New Zealand in good stead."
After all, even the most seemingly ageless cannot go on forever.