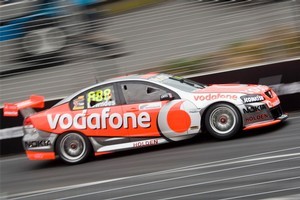 High-profile New Zealand driver Greg Murphy says it would be a "travesty'' if the V8 Supercar Championships did not return to this side of the Tasman.
Next year's championships in Hamilton are likely to be the last in New Zealand for the foreseeable future. The city announced in September that it would not hold the event after next year and a lack of alternative venues in this country means there is every chance it won't return.
"To not have an event here after 11 years would be a travesty to be honest,'' Murphy said today at the launch of next year's Hamilton event to be held on April 20-22.
"When the New Zealand round became part of the championship in 2001, the effect that had on New Zealand motorsport as a whole was enormous. It had a huge part to play and it still does. The V8 Supercars are as synonymous with motorsport here as they are in Australia.
"We're very proud of what the Kiwis have achieved in this championship, it would absolutely be horrific to think we would no longer be racing here and I think so many fans would be up in arms about it as well, but it's economics and that's the way it works.
"That's another reason for fans to buy their tickets for Hamilton next year in case it is the last one, but I hope it's not.''
This year's event in April, won by New Zealand driver Shane van Gisbergen, was hampered by poor weather, the proximity to the Rugby World Cup, Canterbury earthquakes and economic downturn, all of which conspired to keep spectators and corporates away.
Last year the V8 Supercars organisation stepped in to save the event after the financial demise of the previous promoter but chairman Tony Cochrane said New Zealand could miss out in future.
He said the Pukekohe, Hampton Downs and Whenuapai circuits were alternatives but not up to scratch. Pukekohe needed a lot of work to meet FIA safety regulations and the other circuits needed resource consents which would be hard to come by going by previous experience.
"I have to be a realist,'' he said. "It would be extremely hard to make Hampton Downs work financially for anybody. Having now gone through a fairly horrendous period with a failed promoter in New Zealand and the money we've had to stump up to preserve last year and next year [in Hamilton], I have to say at this point it's unlikely but I'm certainly not ruling anything out.''
Cochrane, who admitted it had cost V8 Supercars about $5 million to keep the event in Hamilton, said he had been approached by "several groups'' keen to host a New Zealand leg of the championships but "you can't get around the fact that we're a very expensive show to move''.
All cars and equipment had to be air freighted, plus 600 people moved and accommodated. "It's an expensive ask and to make that work on a circuit is going to be difficult,'' he said.
Cochrane said his organisation had until May next year to find a suitable alternative for 2013.
Van Gisbergen, who triumphed in Hamilton with his Stone Brothers Racing team and finished fourth overall and top Kiwi in this year's championships, said: "The fan base here is so strong and I know myself being a supporter when Greg was doing so well at Pukekohe, you see that the passion is still there. We have a huge following in New Zealand. To not race here we would be definitely missing something special.''
Given the commercial realities, it's likely Cochrane is looking for a street race alternative close to or in Auckland. He said Mayor Len Brown and Prime Minister John Key had been supportive in the quest to find an alternative venue.
- APNZ