Tis the season for a 2012 New Zealand sporting list. Here is my wish list for the coming year....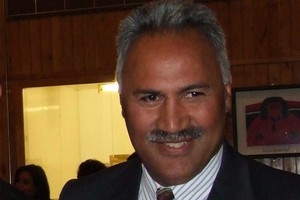 1. The stadium issue remains alive...
Auckland can't give up on the dream that a brilliant new stadium suited to the city's modern day needs will be built. Eden Park is a disaster which is capping the football codes and generally dragging Auckland sport down, but apparently there is little desire to sort this out.
2 . Ken Laban becomes the number one league commentator...
A personal crusade here, to find someone to replace Stephen McIvor, who isn't up to the job. This brilliant idea involving Ken Laban came from a reader named Brendan Mears - a Wellington league-ite who now lives across the Ditch - who suggested promoting Laban for the job. Having scratched the head throughout the year trying to find a solution, the answer turned out to be sitting there all along in Sky's rugby commentary team. Laban has a terrific history in league and is still well connected to key figures across the Tasman. He's done an excellent job as a rugby commentator and from brief conversations with him over the years, I know he feels honoured to have that job. But Laban has the potential to do wonders as the leading TV commentator. (Why didn't Sky think of this in the first place?) The Sky honchos need to have a re-think and take the situation more seriously than offloading a studio guy into the commentary box.
McIvor does a slick job as a league presenter and I take no pleasure in trying to bring him down. But commentary quality is crucial to any sport, and McIvor is not a play-by-play league commentator whereas Laban could turn this whole situation around. Make your voice heard - Sky needs to get this message loud and clear if you want to see a change.
3. Jacko Gill wins Olympic gold (or a medal)...
No pressure Jacko - this is only a wish list. New Zealand has a sporting genius on its hands - teenager Gill could become the greatest shot put exponent ever. The Devonport hurler is revolutionising shot put with his emphasis on speed. At this rate, he'll blow the world of shot put to smithereens. Gill is so good that Olympic qualification at the age of 16, achieved this week, was a formality and he was actually a touch disappointed not to have thrown further. Gill, whose hobbies include looking after pet lizards, is both single-minded and incredibly determined. Just imagine, a 17-year-old winning an Olympic medal in a he-man event. So heave man, heave.
4. Valerie Adams wins an Olympic gold medal...
Adams is already a legend in the shot put. There is a chance New Zealand might get to celebrate two Olympic champions in a sport that used to be the domain of hairy East German types - and that was just their women.
5. Richie McCaw's dinged foot gets better...
For whatever time Captain Fantastic has left at the top, he deserves to go out on a high. McCaw braved his way through the World Cup on a dodgy pin, but he won't be able to do that forever. Let's hope he can follow up the World Cup triumph with at least one more fabulous season and with any luck a few more, although it's very doubtful his battered body will hold together for another World Cup.
6. Something wonderful happens in cricket...
Anything would do after the depressing test match in Brisbane. Maybe the lads will fire up in Hobart although the pea-hearted display in the first test against Australia suggests not. Cricket fans need something to stir the blood. The South Africans are coming, which has the makings of an excellent tour.
7. The Ko and Cho show goes on...
The 14-year-old Lydia Ko, from North Harbour, and 16-year-old Auckland representative Cecilia Cho have stormed to the top of the world's amateur ranks and Ko was even in the hunt to win a pro tournament in Australia this year. Sport is full of prodigies who hit stumbling blocks so fingers crossed - may these two remarkable young golfers continue to flourish. On a similar note, it would be wonderful to see another former amateur star Danny Lee - who had a breakthrough Nationwide win in Texas - get on PGA tour leaderboards next year.
8. Kiwi caddy Steve Williams doesn't win a major, and Tiger Woods does...
I'm in the camp that hopes Woods can give the Jack Nicklaus record of winning 18 majors another shake simply because it provides great sport. It would also prove to Williams that he is not indispensable.
9. Someone in rugby gets honest about rugby's "privatisation" move...
Give us a break - that announcement didn't signal a move towards "partial privatisation", it was a cry for help from a crumbling monolith. NZRU boss Steve Tew was fairly frank, to be fair, including revealing the NZRU would retain 100 per cent ownership of the four franchises. As Tew said, this is a new model for the world of professional sport, and one you might suggest is not about to sweep the world. Who the heck would plough their money into a sports team in return for stuff all influence over contracting coaches and players? Prospective buyers, or should that be charitable donors, might be reminded that in 2007, the NZRU ripped the heart out of the Super competition by sidelining the best players for half a season. That's how much the NZRU thinks of the Super 15 they want you to buy team licences for, and that's also how much of an iron grip an All Black-obsessed administration likes to hold over the game. For potential investors looking for better returns and a lot more fun - try Las Vegas.
10. The usual suspects...
The rowers and cyclists lead a triumphant Olympic campaign, the Blues come alive, the Breakers triumph again, the Warriors break their duck, the Phoenix go deep into the finals ... and Sonny Bill Williams quits that embarrassing, alleged boxing career.