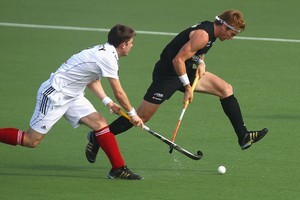 New Zealand 1 Germany 2
This was a victory for precision over perspiration. The Black Sticks ran themselves into the ground but Olympic champions Germany were good value for the victory, with their brand of measured, effective Champion's Trophy hockey.
Despite the German domination, New Zealand had their chances in front of a capacity crowd and were left to rue several missed opportunities, especially in the first spell. Indeed German coach Markus Weise admitted as much after the match.
"We are pleased with the performance and the result but for 10-15 minutes in the first half, they missed several good opportunities," said Weise. "We could have been sitting here telling a very different story."
Counterpart Shane McLeod lauded his team's effort in a "hard fought" match but admitted it was a disappointing result.
"To beat the Olympic champions in the first game would have been a great story but it just wasn't to be."
Germany forced numerous penalty corners from isolating New Zealand defenders and McLeod said that would have to be a focus going forward, a point echoed by new captain Dean Couzins.
"Our defending can be a lot better," said Couzins. "The goals had a soft element about them and so did many of their penalty corners. Having said that, we pressed really well in midfield and managed some good turnovers."
It continues a barren run for New Zealand against these opponents; they have never beaten them in a Champion's Trophy contest and their last victory in any competition came in 2009.
The match was a fascinating contrast of styles. Germany are masters of the European hockey school, attempting to hold possession for long periods and content with a slow, structured build-up before engineering chances with precise passing into dangerous areas.
Often it seems like they are deliberately playing for the foul in the area and the subsequent penalty corner. Defensively, they offer a choking man-to-man style, limiting the space that teams like New Zealand thrive in.
New Zealand, ranked five places below Germany, prefer a high-energy style based on physical intensity and plenty of running. It can be effective but accuracy in the final third let them down yesterday.
The European champions have left six senior players at home - three due to injury and the others with study commitments - but their youngsters stepped up impressively. Their passing is inventive and the difference was in the midfield where they outplayed their opposites.
The Black Sticks made a sluggish, almost nervous start to the match. Continuing the pattern from their final warm-up game against Spain, they struggled to hold possession and conceded simple turnovers.
After they hit the post with an early penalty corner, Germany's Thilo Stralkowski opened the scoring in the ninth minute, deflecting in a slashing diagonal shot from the edge of the circle. This seemed to stun the home side into action and the chances started to come.
Nick Wilson forced a great save with a backhand shot, before Simon Child set up a wonderful equaliser in the 14th minute.
Child outwitted his defender with a beautiful dummy and turn near the corner flag, perhaps reminiscent of football's Johan Cruyff, before sending a bullet cross across the face of the goal which Hugo Inglis slotted home at full stretch.
Wilson later produced a moment of magic with a feint then flick over the outstretched glove of the goalkeeper, but was foiled by a desperate sprawling tackle by a German defender.
Inglis was centimetres away from a second moments later, while New Zealand goalkeeper Kyle Pontifex managed a fingertip save to deflect a German penalty shot that was arrowing into the top corner.
Right on halftime the Black Sticks rode their luck again, as the Germans hit the woodwork again from a penalty corner.
Child should have done better in the 46th minute, rifling over from close range, after a damaging run and cross from Shea McAleese.
After spurning several chances, the Olympic champions regained the lead on the hour. Germany's Christopher Wesley showed great awareness and skill to deflect a team-mate's hopeful shot into the net. McLeod will have been disappointed, as at least two of his defenders were caught ball-watching.
After Germany made a mess of two late penalty corners, Hayward had New Zealand's second and final penalty corner chance in the 66th minute but put it wide.
New Zealand face South Korea today and McLeod is confident of a better result, having only lost one of the last five encounters with the Asian side.
New Zealand 1 (H. Inglis), Germany 2 (T. Stralkowski, C. Wesley). Halftime: 1-1