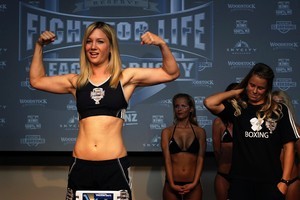 Definitely more slugfest than hugfest. Last night's Woodstock Reserve Fight For Life might have supported a worthy cause - the Prostate Cancer Foundation of New Zealand - but the charity ended once the 14 fighters climbed between the ropes.
The eighth edition of the event, staged at a packed-out Waitakere Trusts Stadium, carried an underlying rugby vs league rivalry with past and current stars from both codes putting their reputations - and those of their respective sports - on the line.
None turned up out of shape and none pulled any punches in defence of their pride. Certainly, former front rowers Jerry Seuseu and Slade "Buddha" McFarland showed intent as the programme got under way with a true heavyweight encounter.
McFarland, the former North Harbour rugby hooker, spent most of the final round trying to set up the knockout shot, most likely a swinging right cross or upper cut, but the clock ran out on him and he had to be satisfied with a unanimous points decision.
"I'm knackered," said McFarland. "I was conscious of being by myself in the square, but carrying people's hopes and support. Jerry's a big man with some big heavy hands."
Rugby 1, League 0.
Wairangi Koopu looked in sensational physical condition as he took on cousin and former New Zealand sevens rep Matua Parkinson and employed some tricky decoy punches in the opening round. He found his opponent's unorthodox brawling style difficult to crack, but the judges agreed he did best and the codes were locked at one win apiece.
"I appreciate 'Muts' taking this fight at such short notice," said Koopu. "He only stepped in three weeks ago and spent two of those in the bush pig hunting."
For the first time, Fight For Life also featured an all-woman bout - a battle of the blondes between champion surfer Paige Hareb (representing rugby) and TV presenter Hayley "The Incredible" Holt (league). It proved to be the most popular of the early clashes.
Holt came out all guns blazing and stunned the smaller Hareb a minute in, but the surfie re-grouped and had turned tables by the end of round two, The pair were still swinging toe to toe at the final bell and Holt emerged with a unanimous points victory as rugby league took a 2-1 lead in the codes contest.
"I'm retiring from boxing as of today," she said. "I was scared - she got me some good ones in the face. I'm relieved it's over and now I'll be a lot chirpier around the office."
Another eagerly awaited contest pitted former All Black first-five Carlos "The Jackal" Spencer against ex-Kiwi second rower Awen "The Real Deal" Guttenbeil, Spencer had been sweating his butt off in a Johannesburg gym and came out looking like Arnold Schwarzenegger.
He translated that power into early pain for Guttenbeil, attacking him so hard showers of sweat sprayed from his protective head gear. Probably sensing he was behind, Guttenbeil tried to up the pace but couldn't maintain it, finishing the contest on the canvas as Spencer connected with a succession of blows.
Guttenbeil was allowed to find his feet and, sensationally, the judges called a draw as the crowd bayed and called for a deciding round. That was never likely to happen.
"This just goes to show what a supreme athlete Carlos is," conceded Guttenbeil. "If I was scoring that fight at home, as far as I'm concerned, if you hit the ground, you lose."
Current Kiwi hooker Issac "Cannonball" Luke brought a fearsome reputation for somewhat dodgy tackling technique into his encounter with Christian "Four Kings" Cullen and quickly had the former All Black fullback under a standing count. Cullen bade his time and finished the stronger, but had to bow to a split decision that favoured his opponent. League was now two rubbers ahead with two remaining.
The matchup between Australian dual international Wendall "The Dark Destroyer" Sailor and Chiefs rugby captain Liam "Don't Mess With" Messam brought the biggest weight discrepancy. Sailor tipped the scales a whole 10kg heavier than his rival and many wondered whether his conditioning would carry that load.
He immediately established himself in the centre of the ring and Messam sought to shift him from that spot and, as the bout progressed, he cruised to a clear points victory.
Rugby had pegged one back and the final contest was poised to decide bragging rights - but too late for this deadline. In the card's feature bout, cruiserweight Shane "The Mountain Warrior" Cameron was scheduled to face league hard man and former karate champion Monty Betham in six two-minute rounds.