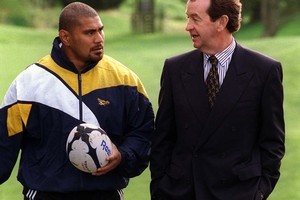 Three of the country's canniest investors with a love of sport advise passion and caution in purchasing a licence in one of the four available Super Rugby franchises.
The New Zealand Rugby Union is granting that opportunity from 2013 for the Blues, Chiefs, Hurricanes and Crusaders. Sir Bob Jones says such a scheme is best treated as "a hobby" while Sir Michael Fay - who invested in New Zealand's original America's Cup campaigns and the Samoan rugby team - recommends "putting your heart into it as much as your wallet".
Billionaire Owen Glenn says: "I have only donated to sport and as a result have not looked to that donation for a monetary return. If I did consider investing in a sport for a return, the following criteria would need to be satisfied: total control, a minimum 20 per cent pre-tax return, upside of 50 per cent growth in capital invested within five years, and sufficient security and safeguards within the sport to protect the investment."
The NZRU will retain full ownership of the franchises, the contracting process and coaching appointments. Investors would get to select, market and manage their team as well as lobby for players outside New Zealand if that works in tandem with the sport's governing body.
Sir Bob became a multi-millionaire through property investment and is currently investing in the development of super heavyweight boxer Joseph Parker. He expects it to be difficult to find buyers.
"I can't see how you'd get anyone to buy into it because they're never going to be much of an investment. Such money nearly always has to come from someone passionate about the sport. If you look at the ownership of professional sports in America or Britain, more often than not they're doing it as a hobby rather than making money like Manchester United being bought by Americans, which caused a lot of rancour. Look at the Warriors owners [Eric Watson and Mark Hotchin]. Those two have been solid in support yet they've both been in the poo [financially]. Anyone who thinks they'll make money out of it is pipe dreaming. I even think Terry [Serepisos] thought if he built up the Phoenix, one day he'd make a lot of money out of it because he was passionate about soccer."
Sir Michael says the best advice he heard came from late Australian media proprietor Sir Frank Packer who was part of the Australian Gretel and Gretel II America's Cup challenges in 1962 and 1970 respectively.
Someone once posed a question about why he had supported those efforts, Fay says. "He said 'delusions of grandeur and too much port', I've never thought of a better answer.
"Setting grand objectives is something which helps people love sport. We saw it here when Blakie [Sir Peter Blake] won the America's Cup in 1995. There were significant benefits across the country, not just for Team New Zealand. To my knowledge such investments are more than justified but you have to bring intangibles like that into the equation to get value. Whether "value" relates to a return on investment in a simple business sense, I'm not so sure.
"In the case of the Samoans and me, we were left 'poor' by the IRB's point-blank refusal to entertain a revenue-sharing model. Done properly this sort of opportunity [to invest in the Super Rugby franchises] is great. However, if you want to put a mortgage on the team and pay the bank off, you'd have to be careful.
"Perhaps a syndicate of businesspeople might contribute at a business and management level while holding onto the dream of their team winning. I suppose I could scratch my head and think third time lucky with another sporting venture," Fay laughs.
Tew pointed to individuals with high net worth as being candidates: "Look at those who put a rescue package together for the Phoenix football franchise, that sort of group is on the radar."