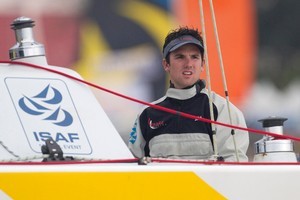 Promising young match racing sailor Phil Robertson and his Waka racing crew have linked up with the China Team America's Cup challenge, as they build towards an entry for the 2013 event in San Francisco.
A little over a year ago, Robertson was uncertain about his future, after Oracle's decision to opt for a multi-hulled America's Cup. At the time one of New Zealand's highest-ranked match racers, the change to the 'Cats' threatened a whole generation; suddenly there were a lot less jobs to go around.
But now, while the Chinese syndicate has many financial hurdles still to pass, it represents a stunning opportunity for Robertson and his team. They will spend most of next January and February based in China trialling boats and helping to train local sailors before crewing on some of the AC45 events around the world next year.
"It's a massive opportunity, there is no doubt about that," says Robertson. "There are no guarantees obviously but it is a huge foot in the door. Last year it felt like all the doors were slamming shut. Now we get a chance and it's a bonus that we can all stay together."
As unlikely as it sounds, the opportunity all hinged on a meal of mee goreng (spicy noodles). Two years ago, after winning the Asian Match Racing Championship for the first time they met veteran America's Cup sailor Thierry Barot, at the post-regatta dinner.
The Frenchman is CEO of the China Team challenge and was impressed with the young Kiwis. He got in touch in September, leading to the current arrangement.
Barot is putting together a melting pot of former Olympic sailors, young match racing talent, seasoned French catamaran exponents and Chinese muscle. They aim to build a squad of 50 Chinese athletes, recruited from football, weightlifting, athletics and rowing among others, and train them.
There is even the suggestion that up to 70 per cent of the crew in 2013 will be Chinese. The syndicate will have access to the Chinese Olympic contingent, unlike in 2007 when the Beijing Olympics prevented any involvement.
The other aspect is getting the dollars in place but there are some grounds for confidence here. China has become the biggest market in the world for luxury brands which fit with sailing. Government and provincial support will likely be forthcoming and Larry Ellison will continue to do all he can (mostly in the way of generous loans) to aid potential challengers.
Robertson and his crew competed under the China Team banner at the China Cup regatta in October, as well as last month's America's Cup world series in San Diego.
"The boat speed is obviously quite different," says Robertson, "but the communication, strategy and tactics are all extremely similar to match racing. The potential for crossover is huge - you just need to look at Dean [Barker], James [Spithill] and Terry [Hutchison] who are all near the top of the ladder."
In their first full year on the world match racing tour, they will take away sweet and sour memories. After a promising start, they hit a prolonged flat patch mid-season before finishing on the up with a semifinal in Bermuda and a quarter-final appearance at the prestigious Monsoon Cup.
"We learnt tons," says Robertson. "There is a good base to build on now. We are not much older but definitely wiser."
Robertson's team also plan to complete another year on the WMRT, with a podium finish the stated aim. For now though Robertson plans to spend his time off back out on the water, sailing in a 20 foot A Class catamaran out on the Waitemata Harbour to continue his multi hull education.