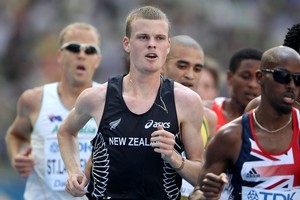 Seeking out the best in the world to improve yourself as an athlete is an easy thing to say - but a lot harder to do. Yet Hamilton brothers Jake and Zane Robertson have trained with the great Haile Gebrselassie - acknowledged as one of the best distance runners in history - in mysterious Ethiopia and have also trained at Kenya's famed athletics nursery in the Rift Valley.
But few people outside of hardcore athletics fans even know who these brothers are. They may or may not be at the Olympics next year - but they may have laid the foundation for future success with a brave decision to seek their athletics fortune in Africa.
Four years ago, the two brothers, then teenaged, pondered how far they would go to become the best they could be. They were at school but dreamed of athletics glory.
"They were very determined," recalls then-coach Don Willoughby. "I have never met a more single-minded pair trying to make it to the top. They spent all their time on the computer, researching what the Kenyan athletes were doing.
In the end, they decided the only way to get to the top was to leave home and train with the best."
So began a pilgrimage that has led the twins to deepest, darkest Africa, tapping into the secrets of the world's leading distance running programmes. It's a physical and spiritual experiment that has taken them from promising junior champions to the verge of world class, but so far, it's probably been more about the journey than the destination.
Jake's progress has been the more marked. In May, he clocked 13 minutes 22.38 seconds for 5000m in the Netherlands, hacking 10 seconds off his previous best time. Among Kiwis, that time ranks him not far behind the likes of national recordholder Adrian Blincoe (13m 10.19s), Dick Quax, Rod Dixon and John Walker. At the IAAF world championships in August, he was tripped during his 5000m heat and missed qualifying, but saw his protest upheld and eventually finished 15th in the final.
Meanwhile, Zane recently improved his 5000m best to 13m 58.37s and has a fastest 1500m of 3m 41.77s, still some way from breaking into the big time.
They both contested this year's world cross-country championships in Spain, where Jake led the Kiwi men home in 60th and Zane followed in 92nd. Suffice to say, their rise to the top is still a work in progress.
Before leaving New Zealand, they certainly showed some talent.
"They were as good as anyone I've ever trained and totally committed to the running scene," says Willoughby. "They lived, ate, drank and breathed running. They were also very competitive and I had to avoid them racing each other as much as I could. It was an interesting challenge and I quite enjoyed it."
The opportunity to move to Africa arose at the 2006 world cross-country championships, where Jake befriended some of the leading Kenyans and enquired about joining their training squad. The following year, he and Zane left New Zealand and moved to the town of Iten in the Rift Valley, famous for producing such champions as marathoner Ibrahim Hussein, former Olympic 1500m champion Peter Rono and steeplechaser Wilson Kipketer.
"When I came over here, I expected to find a new lifestyle and a way to make it to the top of the athletics world," says Jake (21). "We were living with no food, sometimes no water and sometimes no power. It was hard at first, but fun at the same time because it felt like camping back home."
Initially, they slept on foam mats on the floor but, as the local community saw they were serious about improving, steeplechase world record holder Saif Saaeed Shaheen took them under his wing.
"I think our dreams have pulled us through the hard lifestyle, but now that lifestyle has become normal and no longer a struggle," says Jake. "You live simply, but you live any way you want to up here."
Back home, most of their friends and family thought they were mad. Living in poverty and the unstable politics of East Africa isn't how most Westerners imagine pursuing their dreams but learning from the world's best seemed a logical decision for the Robertsons.
It certainly made more sense than the more conventional route of American college scholarships, where coaches are often driven more by results than the well-being and development of their charges.
"It was hard to run at altitude the first time," says Zane. "But with our focus, within a week, we were flying.
"Our improvement was huge, but we were still young when we left New Zealand, so improvement was always going to happen. Now we're running with the big boys."
Occasionally, the Robertsons would journey across the border to Ethiopia, where they met and trained with perhaps the biggest name in world distance running - Gebrselassie, winner of two Olympic 10,000m gold medals, four world championship medals at the same distance, four Berlin marathons and a world record marathon time. Now 38, Gebrselassie may yet make his team to the London Olympics if he qualifies for the marathon in February.
"I think their secret here is just a lot of hard work," says Jake. "The altitude helps with the training, but it's the lifestyle that surrounds the sport that consumes you and it's what you live for daily with no compromise."
So the experience has changed them just as much as people as athletes and, if you're looking for a secret elixir, that's probably the point. They're living and breathing a culture that has helped hone their survival instincts - as humans and runners.
"Living with the best breeds confidence," confirms Zane. "It has really changed the way I attack anything in life - if I want it, I won't give up until I get it."
Since the cross-country championships, Jake and Zane have gone their separate ways. Both now have African girlfriends and Zane has moved to Addis Ababa to live with his, an Ethiopian runner representing the United Arab Emirates.
"I'm happy living the lifestyle here," says Jake, still in Kenya. "I plan on building my dream house here."
He hopes to return to Hamilton this summer and has set his sights on lowering Blincoe's national 5000m record on his home track at Porritt Stadium. During the European season, he will take a shot at 13 minutes, a benchmark that very few non-Africans have every achieved.
"Of course, my biggest aim is the London Olympics, to make the final. If I am in the shape that I believe I can get into, then anything is possible and a medal is a chance."
Has the sacrifice been worth it? Even their doubters back home have probably come around on this point.
"Before they left, we had a family meeting with mum, dad and the two boys, and laid out all the pitfalls," remembers Willoughby. "In the end, it was their decision and I think it has paid off for them. They may not be rich - in fact, I know they are very poor - but I think it is getting better with some of the systems set up around them. They've got a few mentors over there and people looking after their welfare.
"As an old-fashioned coach, I still believe it's possible to make the grade by staying in New Zealand. I don't believe athletes need to go to the States or to altitude. They've chosen a very simplistic, yet hard lifestyle and I have great admiration for them."