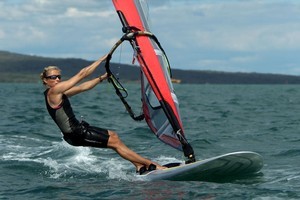 She barely caused a ripple at the last world championships but Natalia Kosinska could make some real waves this week in Perth.
The Pole-turned-Kiwi is our leading hope in the women's boardsailing, a discipline where New Zealand has a solid pedigree.
The 1999 world youth champion, she went on to enjoy some senior success before packing her board away in 2005.
After emigrating to the Southern Hemisphere, Kosinska launched a comeback last year and the results since have reflected a steady rise. She finished 38th at the 2010 world championships, 21st at a world cup regatta in April, 16th at Sail for Gold at Weymouth in June and 10th at the Olympic test event at the same venue a month later.
"For Natalia, it was always going to be a race against time," says coach Dave Robertson. "She has had a tough fight to get to where she is - both in terms of fitness and technique. The current RS:X board (with a 8.5 square metre sail and a 15.5m hull) is very different to the one she grew up on and that has been the greatest adjustment."
Her well planned schedule was hampered by a nasty training accident earlier this year, when she broke her leg sailing off Takapuna.
"It was a freak incident in high winds," recalls Robertson. "There was a collision and - as we like to joke now - Natalia snapped another guy's mast with her leg."
Unfortunately the injury was misdiagnosed as 'heavy bruising'. Kosinska trained for two more weeks but felt continuous pain; a subsequent X-ray confirmed a broken fibula.
"It was a shame because I lost some fitness and it affected my early European campaign," says Kosinska, "but I have done a lot of hard work since then. I've improved a lot - just through time on the water. I am feeling pretty confident."
She carries a world ranking of 32, up from 91 in August last year, but that paints a false picture in terms of the Olympics, with each country limited to one sailor.
If Kosinska has a weakness - and she tends to be candid about such things - it is her ability in the heavy winds.
She feels she has progressed in this area but Perth, with its renowned sea breeze, will be the litmus test.
The 30-year-old has tried different hand positions and experimented with her rigging, while occasional practice partner Tom Ashley has provided some invaluable tips.
"I was always slower on one side," says Kosinska, "so he showed me how to apply more pressure on the front arm, which enables you to stand more upright and go faster. He has also helped with keeping the board flat in choppy water."
Kosinska has spent the last month in Perth, training with current world champion Blanca Manchon of Spain and beating her occasionally.
To prepare for the windy conditions, Kosinska has given herself licence to pile on some pounds, mainly through the use of supplements and also indulging her sweet tooth.
She has enjoyed catching up with her old Polish team-mates (the East European nation has three women in the top 15) and finding her way round the one of the world's most livable cities.
She admits to feeling "a bit stressed", especially as nearest Kiwi rival Steffanie Williams (world ranked 39) has come into career best form and is lightning quick in the heavy air.
"There is real pressure to perform and this will be her biggest test yet," says Robertson.
The women's boardsailing starts tomorrow, with the men's event (featuring Ashley and Tobin) under way next Monday.