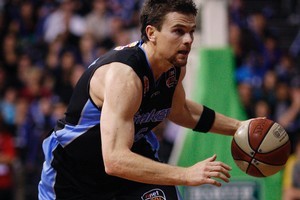 Second time time round, Kiwi basketball star Kirk Penney has learned to cherish everything Spain has to offer - and it's so much better when you can share.
Earlier this year, the Tall Blacks captain shocked NZ Breakers fans by leaving his childhood home - Auckland's North Shore - to sign with mid-table Fuenlabrada in the Spanish first division.
After four years, he had helped deliver an Australian NBL championship and had probably achieved everything he could with the club.
Penney (31) realised he wasn't getting any younger and this was time for one last shot at the powerful European leagues. And it was definitely a matter of enjoying a romantic part of the world with new bride Audra, whom he married in June 2010.
He had played in the Spanish league before, with Gran Canaria in 2003-04, and didn't take away especially fond memories of his stay. Time offers a different perspective.
"Back then, I was really in a different place mentally," says Penney. "I had just been released from the Miami Heat, it was my first professional contract in Europe and I probably didn't understand the job I had in the Spanish league.
"The Canary Islands were a wonderful opportunity and, in retrospect, I probably appreciate it a lot more now than I did at the time."
Since then, he has served with teams in Israel, Lithuania and Germany, as well as the NBA development league.
"I love Spain and I love the architecture of this city," says Penney. "There are so many little tapas bars and cafes with great atmosphere, and Audra and I love jumping into our car with a GPS and just exploring."
Penney met his wife while on scholarship at the University of Wisconsin and the move to Madrid has enabled her to play professional volleyball for a local team.
"Having Audra here doesn't even compare with being here by myself and just trying to survive," he says. "Sometimes, you can be five months into a nine-month contract and wonder how you're going to get through it. But we've both got games this weekend, we come home and talk about how our practices went, we're learning the language and exploring the city - it's unbelievable."
It also helps that Penney is probably at the peak of his basketball powers. After four years as one of the Australian NBL's leading scorers, he has simply translated that success across to Spain, arguably the world's second-strongest national league behind the NBA.
Riding a three-game winning streak, Fuenlabrada sit seventh on the competition table with a 5-4 record. Penney is their leading scorer and fourth highest in the league with 16 points a game.
"It's a relatively established team with 60 per cent of the players here last year," he says. "But there's a new coach and staff, so even with all the same players, there isn't the continuity with coaches and systems. It's as new for them as it is for me."
While several NBA players have found temporary employment in Europe during their lockout, they're now returning to the United States, subtly changing the balance of power wherever they've been. In Spain, top-of-the-table Real Madrid will lose forward Rudy Fernandez to the Dallas Mavericks and centre Serge Ibaka to the Oklahoma City Thunder, so they'll need time to adjust to their replacements.
Fuenlabrada also contest the EuroChallenge - the third tier of continental competition - and will likely encounter the Turkish outfit Besiktas, where New Jersey Nets guard Deron Williams recently recorded a 50-point game.
Penney's focus is Spain, but his heart is still very much back home with the Breakers. Barely an hour after their win over the Melbourne Tigers on Friday, he's already raving about the 33-point performance from Tall Blacks team-mate Tom Abercrombie.
Breakers fans probably hope to see him back at the North Shore Events Centre some time soon but Penney isn't thinking that far ahead.
"I'm on a one-year contract here, so I'll play it out and then evaluate what to do next."