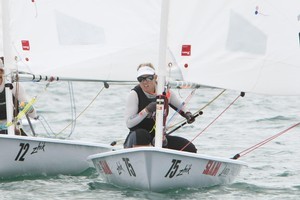 Kiwi sailor Sara Winther is trying not to let the pressure of Olympic selection weigh too heavily on her mind as she prepares for the ISAF world championships in Perth.
As three-quarters of the country qualifications for the 2012 Olympic Games will be decided in Perth, the regatta is the biggest event on the sailing calendar this year.
As well as securing New Zealand a spot, a strong performance in Perth will also be key to securing individual selection.
Winther, who will take to the water in the Laser Radial class next week, is acutely aware she needs to impress selectors after a disappointing performance at the Olympic test event in Weymouth in August.
But she's also aware placing too much pressure on herself to do so can be counterproductive.
The 30-year-old believes nerves were partially responsible for her sluggish performance at the pre-Olympics, where she finished 22nd.
"[The world championships are] obviously a very important event for me, but I've just been trying not to think about it too much," said Winther. "I maybe made the mistake in the last big event for me in the pre-Olympics of wanting to do really well and focused too much on the outcome, rather than the process.
"This event, I'm really just trying to forget about what it means and think about it as any old World Cup event."
Aside from the pre-Olympic regatta, Winther has had an otherwise solid year, winning the first two World Cup events of the season before finishing ninth in the Sail for Gold in June.
She's looking to return to that sort of form at the breezy Perth venue, where she had a two-week training block last month.
The world championships kick off today with women's match racing - a new class in the Olympic sailing programme next year. The women will be competing for the two weeks of the regatta, with the rest of the fleets split across the first and second weeks.
The first week will see Natalia Kosinka (women's RS:X), Winther (Laser Radial), Dan Slater (Finn), and Jason Saunders and Paul Snow-Hansen (men's 470) all competing in their respective fields.
The real intrigue starts in the second week, where some Kiwi sailors will be fighting battles on two fronts - first for a place on the podium, and second against their own countrymen for Olympic selection.
The men's RS:X, where the in-form J.P. Tobin will go head to head with Beijing gold medallist Tom Ashley for one Olympic berth, is especially competitive. The New Zealand selectors also have some difficult decisions in the Laser fleet, where veteran Andrew Murdoch faces stiff competition from four young up-and-comers.
New Zealand Olympic programmes manager Jez Fanstone said the championships should give the selectors some clarity.
"We're lucky we've got two classes with so many world-class athletes and we're able to support them to this high standard," said Fanstone. "We've got experienced selectors in each class, and I'm sure they'll have a lot of conversations and make the right decision at the end."
Olympics decider
World Championships
Perth, Australia, December 3-18
Event schedule:
December 3-16 women's match racing - Elliott 6m
December 5-11 women's windsurfer - RS:X
December 5-11 women's one-person dinghy - Laser Radial
December 5-11 men's one-person dinghy heavy - Finn
December 5-11 men's two-person dinghy - 470
December 11-17 men's keelboat - Star
December 12-18 men's windsurfer - RS:X
December 12-18 men's one-person dinghy - Laser
December 12-18 women's two-person dinghy - 470
December 12-18 men's skiff - 49er
New Zealand team
Women's 470: Jo Aleh and Olivia Powrie; Men's 470: Jason Saunders and Paul Snow-Hansen; Men's RS:X: Tom Ashley, J.P. Tobin; Women's RS:X: Natalia Kosinka; Finn: Dan Slater; Laser Standard: Andrew Murdoch, Sam Meech, Mike Bullot, Josh Junior, Andrew Maloney; Laser Radial: Sara Winther; 49er: Peter Burling and Blair Tuke; Women's Match Racing: Jenna Hansen, Susannah Pyatt, Stephanie Hazard.