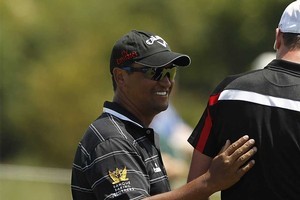 Marketing sports events is an adventurous exercise.
Just ask those responsible for drumming up support for the NZ Golf Open being held at the Clearwater course this week in Christchurch.
Posters urging spectators to support the BMW sponsored event are scattered around the southern city as it embraces a rare major event since the February earthquake.
Former US Open champion Michael Campbell is the major image with subsidiary pictorial billing shared by Danny Lee, David Smail and Ryan Fox.
Campbell began the tournament week in boisterous humour, mentioning a revival in his game and a good feeling about next year after three seasons in the doldrums. He was moving his family to a new base in Switzerland after Christmas to give the European tour another concentrated burst.
Campbell was two under par after his initial seven holes. Then he disintegrated.
He signed for a five over par 77 and followed that up yesterday with a six over par outward nine and an eventual 79 to kneecap his chances of weekend play.
Subsidiary poster boy Danny Lee did not even front because he decided to go after Race to Dubai points in the Hong Kong Open this week.
Another poster boy, former NZ Open champion Smail, began with a scrappy 77 including a triple bogey, but repaired a fair chunk of that damage yesterday.
He ended with a 68 with the highlight an eagle on the sixth when he holed his second shot to the par four in a rollicking outward half of 32.
Amateur Fox opened up with a par round but emulated Campbell with a six over par outward half yesterday to leave him in danger of missing the cut. However Fox birdied the last to arrest a scrappy round and give himself another chance this weekend.