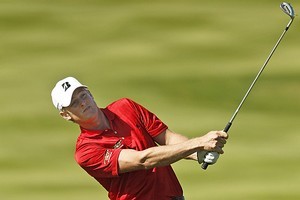 Brad Kennedy sat down for his post-round press conference today expecting his round of four under at the New Zealand Open to be overhauled by the end of the day.
Instead, the well-spoken Queenslander ended day one at Clearwater with a share of the clubhouse lead alongside Kiwi Jim Cusdin.
Kennedy, who sits 28th on the Japanese tour's order of merit, set the pace early in the day and went as low as five under par before he carded a respectable 68.
In fact, when Kennedy spoke to the media at lunchtime, he was surprised he was in the lead: "You can get a good score round here. I thought someone might have shot five or six under today, so I guess from that point of view I was a little bit surprised."
At around 7pm when the last player signed their card, he must have still been surprised because nobody managed to perform the feat.
Despite being relatively unknown to the average pundit, Kennedy entered the tournament as the highest ranked player in the field with a world billing of 228.
The 37-year-old, who won last year's Western Australia Open on the PGA Tour of Australasia, said he always liked to make time to play the New Zealand Open.
With one more event to play on the Japan Tour before the end of the year, he was spending the week in Christchurch staying with friends at the Clearwater resort.
"It's an enjoyable week. A lot of red wine and a couple of beers. It's a nice relaxed atmosphere here and the course is probably the best I've seen it. So it's great to come to Christchurch and play."
As for the golf side of things he was pleased with his effort, which included being two under after the first two holes.
"Obviously the key to the round was it wasn't so windy early. [I] got off to a great start birdied the 10th and the 11th and I think early in the day that's probably the best hole to start and I hit a couple of great shots and a couple of good putts. And then from then on just played quite steady. Had a great up and down on 17 for a par and kept the momentum going."
After having the luxury of a morning tee off time today (thurs), he will play in the afternoon tomorrow, alongside Kiwi amateur Ben Campbell and fellow Australian Peter O'Malley.
"I think if you are hitting the ball well enough the back nine's actually the nine that you can really, really go low. The front nine tends to have a lot more breeze so you play a lot more crosswind holes."
- APNZ