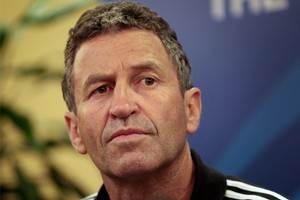 Former All Blacks assistant coach Wayne Smith is keen for a move back to England and appears to be using the Chiefs as a stepping stone to bigger and brighter things.
Smith stepped down from the All Blacks as planned following the recent World Cup but is contracted to the Chiefs as an assistant coach alongside Dave Rennie for the next two years.
However, the former Northampton coach has surprisingly revealed that he is interested in replacing Martin Johnson in charge of the troubled England team alongside former Springboks and Italy coach Nick Mallett.
In what is turning out to be a merry-go-round for international coaches, Smith is in England helping Mallett coach a Southern Hemisphere XV in a charity match at Twickenham on Saturday.
His comments to the Guardian newspaper suggest he has big plans for the near future and they don't include helping the Waikato-based franchise win the Super Rugby competition.
Smith told the Guardian : "I've got a two-year contract but there's an out-clause for both of us. I didn't want to walk out of the All Blacks with the game plan under my arm and go to a competing nation immediately. Given a bit of time to get that out of my system, I'd be really interested in coming back to the UK. Coming back is always something I've wanted to do. You want to coach the best. I'd struggle to coach a team that's losing because that's the way I am."
It appears Smith and Mallett, who will coach a team at Twickenham a week after Graham Henry and Steve Hansen guided the Barbarians to a record loss to the Wallabies at the famous old ground, have talked about a partnership for some time.
Mallett said: "Wayne and I both believe in our abilities as coaches and believe we can get the best out of the teams we coach.
"Without saying anything detrimental [about the previous England regime], there's a lot of progress that can be made."
Smith will have a hard time arresting England's slide if he does get the job after serving his short self-imposed stand-down period.
The England team is in disgrace following its off-field behaviour and poor on-field form at the World Cup and the RFU is in a disorganised free-fall.
The position of the RFU's elite rugby director Rob Andrew has been undermined following the reinstatement of centre Mike Tindall, whose drunken antics at the World Cup led to his initial dismissal and a fine of $50,000. Following an appeal by the players' union, Martyn Thomas, the acting chief executive of the RFU, over-ruled Andrew and reduced the fine to $30,000.
To add to the unwanted drama, loose forward James Haskell, who was accused of being one of three English players to make inappropriate comments to a Dunedin hotel worker during the World Cup, is suing the alleged victim.
Mallett, who was born in England, told the Guardian the team and RFU needed an overhaul.
"What needs to be sorted out quite rapidly is who answers to whom in terms of the way the RFU is structured," he said. "Then they have to decide if they appoint someone now for four years or have someone for the interim period. I'm not sure who on the RFU can make that decision at the moment. There is a performance director in Rob Andrew but after the World Cup, presumably, his position is also going to be assessed.
"Those things have to be sorted out prior to anyone taking on the head coach position. You don't make yourself available for a structure that wouldn't work the way you'd like to see it. You can't have a director of rugby appointing a head coach and then an assistant coach and so on. The head coach has to work with these people _ it doesn't work like that. I think layers of management confuse things."
Mallett had ruled out a challenge for the England head coaching position, citing "family reasons" but has had a change of mind. Smith, who was highly thought of during his three years at the Northampton club, would likely be an assistant.
Smith's revelations come after Vern Cotter, the former Crusaders assistant and now head coach of Clermont Auvergne in France, confirmed that he has applied for Henry's former role at the All Blacks. He won't get the job ahead of Hansen but now that he has signalled his intentions and the fact he has an exit clause in his Clermont contract, maybe he should add his name to the England mix too.
- APNZ