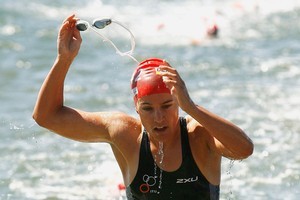 They were there one minute and gone the next, but Teresa Adam and Tom Davison showed enough at last week's ITU World Cup triathlon in Auckland to suggest they'll be back, maybe as soon as the London Olympics.
While established stars Andrew Hewitt, Kris Gemmell and Bevan Docherty captured the limelight on the tough downtown circuit, they owed much of their success on the day to the young Kiwis that sacrificed their own prospects to help set up a dream result for the home crowd.
In the women's race, Andrea Hewitt underlined her Olympic medal prospects by clearing out to an emphatic 57 second win, but only after she and Adam had worked together to wear their rivals down on the bike leg. Those tactics were even more pronounced in the men's event, where Davison helped Gemmell break away during the ride, leaving Docherty and Tony Dodds to ensure the following group never mounted a serious challenge.
Both Adam (23rd) and Davison (18th) were quickly swallowed up by the packs after dismounting from their bikes, but not before pushing their claims for Olympic inclusion as swim/run specialists.
If national selectors decide New Zealand doesn't have three strong medal prospects in each race, they may opt for someone who can help the stars reach the podium, just like the team strategy seen in road cycling.
"That ability to operate within a team culture is looked upon very favourably by us," says Tri NZ national coach Greg Fraine. "They understand what needs to be done in a race situation, make the right decisions and deliver. It doesn't happen in every race, but if the situation arises, they know exactly what to do."
Key to the role is being a strong swimmer. In Adam's case, her pedigree as a national water polo representative saw her set the pace for much of last week's opening leg.
"If you're not there on the swim, you're not in the race," she insists. "When I first started triathlons, I'd never ridden a bike before, but picked that up pretty easily."
This month, the West Aucklander won the elite women's section of the Coromandel's K1 cycle event, so she knew she was up for a big performance on the bike. But since her sixth placing at last year's U23 world triathlon championships, a variety of leg injuries have seriously hindered any progress as a runner and that was always likely to be her downfall in Auckland. Her 43m 17s was the worst recorded on the Auckland 10km leg and seven minutes slower than her best.
"I did just enough running to get through this," she says. "The legs held up really well and I can now move on from here. I don't think I've scratched the surface of my ability as a runner yet."
After escorting Gemmell clear of the men's field, Davison also clocked one of the slowest run times (37m 01s), almost five minutes off his best, but he's also been hampered by a hip injury this year.
"My legs were pretty fried when I got off the bike, as everyone in New Zealand saw," the Cantabrian grins. "Running is definitely a weakness for me and that's one thing I'll be working on this summer.
"But when the opportunity arose to help Kris out on the bike, it was a no-brainer. We never talked about it before the race and it was unbelievable how it happened. You really don't see a plan work that well very often."
Next month, national triathlon coaches will muster their athletes together in Christchurch and explain their options over the coming 12 months. Adam and Davison, both 21, will probably have to decide whether they continue to excel at age-group level and set their sights for the 2016 Olympics, or step up to elite events now and chase selection for London.