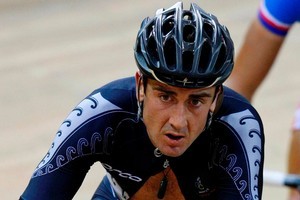 Sense has trumped sentimentality in the debate whether cyclist Hayden Roulston should be part of the New Zealand team pursuit at next year's Olympic Games. It is a simple reminder no sportsperson is bigger than the game.
On the basis of results, Roulston sits behind only 2004 individual pursuit gold medallist Sarah Ulmer in the pantheon of New Zealand's best Olympic track cyclists. His silver medal in the now defunct 4000m individual pursuit and bronze in the team pursuit with Marc Ryan, Sam Bewley, Jesse Sergent and Westley Gough at the Beijing Games have earned him a prestigious place in history.
However, evidence over-rides eulogy when it comes to BikeNZ policy - and rightly so. Roulston's pedigree could have reinforced his claim but, more than three years on from Beijing, New Zealand is amid a high performance revolution across all track disciplines. BikeNZ is aiming for four medals at the London Games and has a bold philosophy that, while any Olympic medal takes some getting, high performance does not correlate with bronze.
The Oceania championships in Invercargill last week saw the current 'A' team of Ryan, Bewley, Sergent and newcomer Aaron Gate shatter their previous best by more than two seconds in winning the 4000m men's team pursuit final in a time of 3m 55.295s.
That is less than two seconds outside the world record set by Great Britain at the 2008 Olympics although different boards can produce different performances. The Kiwis get a chance to test themselves again at the World Cup in Cali, Colombia starting Thursday.
At last year's world championships - with Peter Latham in the team instead of Gate - New Zealand finished fourth. There is work to do.
The incumbent quartet fit the mould BikeNZ is seeking from the data crunched by the five statistical experts at the Invercargill meet. Ryan leads the team off the line with explosive power followed by Bewley's fast-twitch fibres maintaining a targeted speed. Roulston would have fitted into the three or four berth reserved for those who mightn't be the fastest over short distances but can sustain their speed through sheer aerobic base fitness. However, Sergent was always guaranteed a spot as arguably New Zealand's most gifted current cyclist; Gate's credentials were vindicated by the BikeNZ numbers.
In Roulston's defence, he tried to work his new contract with RadioShack-Nissan-Trek around the team pursuit Olympic selection and freed up what was considered a suitable amount of time to prepare.
There is irony in the fact he is actually achieving at the sport's highest level, signing a professional deal to race in Europe. That irony is underlined by Bewley having his contract with RadioShack severed last month in the team merger. Regardless of what deal Bewley now signs, he can negotiate and dedicate time away to pursue Olympic glory.
Ultimately sympathy in Roulston's axing has to lie with BikeNZ. Roulston was not in the top four riders, he will be 31 in January and BikeNZ had 10 potential contenders to test.
As part of International Olympic Committee provisions, they can take a maximum of eight male athletes for the five revamped track events at London. Three of those are sprinters, another is likely to be Shane Archbold, who took silver in the omnium at the world championships in April; the remainder are pursuiters.
BikeNZ and the New Zealand Olympic Committee are understood to be exploring the option of keeping another pursuiter on standby outside the Olympic village in case injury strikes. Even then it's unlikely to be Roulston. His best shot at London appears to be the road team.