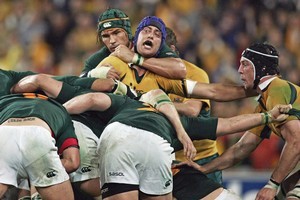 Last night's match between Australia and the Barbarians may be the last time two fine locks are seen on the international rugby battlefield.
Forget the promise of running rugby, veteran Wallabies lock Nathan Sharpe is looking forward to one last battle with Springboks great Victor Matfield. Sharpe and Matfield have spent the past decade trying to outwit each other at lineouts and pulverise each other at international level.
Matfield, arguably the world's premier lock over the past decade, rated Sharpe as his toughest rival before their final clash in Australia's match against the Barbarians at Twickenham. Despite their on-field ferocity, they have become firm friends before the swansong of 2007 World Cup winner Matfield.
"We started playing against each other in the under-21s in 1997 or 1998," Sharpe said. "That is giving away my age. I have a lot of history with him and I had a yarn to him last night and it is great to be able to play against him in his final match.
"It is not very often in rugby you get a direct match-up with another player but in lineouts you do. It is always hard work against Victor."
Matfield destroyed Australia's lineout in last month's World Cup quarter-final although the Wallabies still progressed with an 11-9 victory. Sharpe did not start in that match - and was used sparingly by coach Robbie Deans in a signal that Sharpe - who will be 34 in February - may be on the outer after a fine Wallaby career.
However Matfield played down his chances of causing such havoc again.
"We did pretty well against them in that quarter-final at lineout time at the World Cup," he said. "It is pretty different here, you don't have time to really put systems in place. Hopefully we can steal one or two."
After causing each other grief on the field, Matfield said he would be sure to catch up with Sharpe post-match.
"I have the utmost respect for him as a player and a good guy off the field as well," Matfield said. "It is always nice to have a beer with him."
Meanwhile, in a late change, uncapped backrower Dave Dennis was elevated to Australia's starting line-up following the withdrawal of No8 Ben McCalman. McCalman, who scored the match-winning try in last month's Rugby World Cup third place playoff against Wales, pulled out with an eye infection.
The 25-year-old Dennis, who played for Australia in midweek matches on the 2009 spring tour, enjoyed a strong finish to the Super Rugby season at the Waratahs.
The match against the Barbarians does not count as a full international but Dennis has the chance to press for a place in next weekend's test against Wales. Radike Samo went onto the bench.