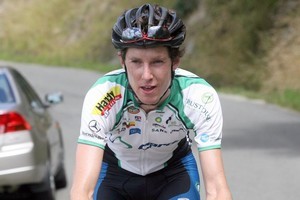 PureBlack Racing's Michael Torckler handled the tough conditions the best in a solo win at the Lake Taupo Cycle Challenge today.
Strong winds made for a challenging 160km race, with over half of the field being dropped in the first 10km. Early leaders Sam Horgan (Subway Pro Cycling) and Mike Northey (PureBlack Racing) were caught by a nine-man break at the 60km mark, with the group going on to establish a five-minute lead, before Torckler made a break with 80km still remaining.
Wellington's Joseph Cooper bridged to the leader but Torckler attacked again up the Hautepe Hill and Cooper was unable to respond. Torckler crossed the line over two-and-a-half minutes ahead of PureBlack Racing teammate Mike Northey with Cooper third.
"It was a really strong headwind and they guys weren't that motivated to work together, so I attacked on the climb," Torckler said. "The wind was blowing me around a wee bit when I was solo. It was worst in the last three kms."
Torckler has recovered well from a serious crash at the beginning of the year, adding the Taupo victory to his win in the K2 Cycle Challenge last month. He is looking ahead to the Elite Road National Championships in Christchurch next month and an international season with Pure Black Racing.
Meanwhile, Waiuku's Kaytee Boyd won the elite women's race just days after competing in the Oceania Track Championships in Invercargill.
The pursuit specialist was involved in the decisive move on the Hatepe Hill, breaking clear in a bunch including Sonia Waddell (Cambridge), Mel Burke (Auckland) and Keri-Ann Torckler (New Plymouth).
They established a 50-second lead, before Boyd showed the benefits of her track strength to out-sprint her rivals for victory.
It marked a successful week for Waddell, the former Olympic rower, who won the para-cycling pursuit title with visually-impaired world champion partner Jayne Parsons in Invercargill.
Elite Men, 160km: Michael Torckler (PureBlack Racing) 3.48.53, 1; Mike Northey (PureBlack Racing) 3.51.18, 2; Joseph Cooper (Wellington) 3.51.23, 3.
Elite Women, 100km: Kaytee Boyd (Waiuku) 3.04.38, 1; Sonia Waddell (Cambridge) 3.04.39, 2; Melanie Burke (Auckland) 3.04.39, 3.
-APNZ
- APNZ