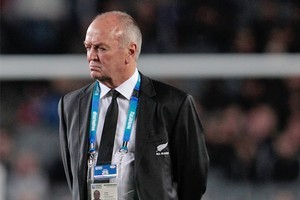 Graham Henry is likely to head out on the speaking circuit at some stage in his semi-retirement but the Black Ferns are hoping to engage his services this weekend - to hand out the jerseys ahead of the first of their three tests against England on Sunday morning (NZT).
Henry is in London to coach the Barbarians in their match against Australia at Twickenham, which is being played immediately before the Black Ferns matchup against their traditional rivals.
Management are in the throes of confirming Henry to hand out the jerseys at the team dinner the night before the match.
Former All Blacks captain Sean Fitzpatrick performed the duty on the eve of the Black Ferns' World Cup final win over England and Nick Evans and Daniel Bowden have done it on other occasions in London.
"It would be awesome if we can get Graham Henry," Black Ferns captain Victoria Grant said.
The Ferns are going through something of a rebuilding phase, which is common the year after a World Cup.
They have a new coach (Grant Hansen), new captain (Grant) and eight new players in the 26-strong squad.
Hansen has named three new caps in his starting side to face England along with two more likely to earn their first cap off the bench. Lock Eloise Blackwell, wing Shakira Baker and flanker Amanda Murphy will all debut and Rawinia Everitt and Hazel Tubic will start on the bench.
For most, however, it will be their first game in three months since the NPC final in August and they will also need to back up by playing three tests against the world's second-ranked side in just seven days.
"It's going to be a mission going from no games to three in a week," Grant said. "We will use our full squad of 26 players and see how we come out of each test match, really, and see what we have left. The last test will be the last ones standing because it's going to be a bruising encounter.
"At a World Cup, you might have the same turnaround but the teams won't be as strong, but playing England three times in a week will be tough.
"The English are really well prepared, which is normal having played something like 15 tests since the final compared to us who haven't played any. We will be running against a well-tuned English side but that's always the case when we play them. We are used to that."
It will be a contrast of styles. Much like the men's game, New Zealand tend to employ an expansive running game while England rely on forward power and tactical kicking.
The current tour is the first part of a three-year programme that will see New Zealand play England again in 2012 and 2013.
Black Ferns: Kathleen Wilton, Fiao'o Faamausili, Mel Bosman, Vita Robinson, Eloise Blackwell, Amanda Murphy, Justine Lavea, Casey Robertson, Emma Jensen, Rebecca Mahoney, Renee Wickliffe, Amiria Rule, Kelly Brazier, Shakira Baker, Victoria Grant (c), Karina Penetito, Doris Taufateau, Rawina Everitt, Aroha Savage, Kendra Cocksedge, Teresa Te Tamaki, Hazel Tubic.
-APNZ
- APNZ