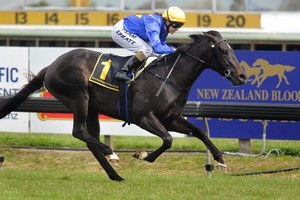 If you are worried about the 1600m or the possibility of the rain-affected track for today's $250,000 Levin Classic at Otaki, don't be.
There are so many more variables.
Trainer Peter McKay is not at all worried about Antonio Lombardo stretching his formline out from 1400m to 1600m, nor the possibility of track conditions being an issue.
Rain yesterday produced the possibility of a rain-affected footing for today, but the pattern fell more into place.
"I'm not too worried about the betting," said McKay of his 3-year-old who has won all three of his starts this season.
The suggested track yesterday appeared likely to be close to perfect.
Local trainer Howie Matthews expected perfect footing.
"We've had huge winds here in the last days and it's dried tracks out.
"The footing for tomorrow should be very good."
The Levin Classic has a varied history, given it has proved a fascinating clash among established horses and emerging types.
This field is no different.
The result will tell a few stories.
Duckworth Lewis has shown ability and is up to level-weighted class.
The wide draw of 16 is no assist compared with Antonio Lombardo's six.
Estrato, a stablemate of the favourite, and Shanghai Bund will be competitive. The latter was not too far away in the 2000 Guineas at Riccarton, after being blocked for a run early in the home straight.
Should the track become heavy upset Wanganui Guineas winner Whoshe, who has drawn well at two, will come into consideration.
However, Antonio Lombardo is the classiest runner.
He is jumping from 1400m to 1600m as a front runner, but that worries connections not at all.
"He is bred to run middle distances and the 1600m should be every bit as good as the shorter distances for him," said trainer Peter McKay.
"He's in great shape and the race suits him. He's actually bred to run a lot further than the 1600m. I'm not all concerned about that."
In his last two starts Antonio Lombardo has won 1400m races in front in fast times of 1.22.65 and 1.22.27.
Peter McKay believes the classy colt can sustain that speed to extra distances.
Horses emerge quickly at this time of the season and there are plenty of challengers.
It could be a profitable day for McKay as he will also be represented by handy sprinter Vincent Mangano in the listed Levin Stakes.
Although his latest form is only fair the 6-year-old, after three runs this campaign, should be ready to return to his best.
Highly rated Guiseppina is the obvious testing material, but she does not like the going any worse than dead. She will find this field much easier than the one she competed in at Flemington last month.