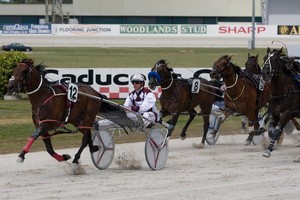 There is one statistic that might put you off having a serious bet on Smiling Shard in tonight's $50,000 Franklin Cup at Alexandra Park.
But don't let the fact that the pocket rocket has won only once in his past 14 starts worry you too much, instead consider the horses who have kept him from the winner's circle.
Smiling Shard should start favourite in the 3200m feature, even though he faces a 20m handicap in a rare capacity field, meaning there will be a lot of horse between him and victory.
Victory is not something the five-year-old has experienced much of this year, his win in the Kaikoura Cup three starts ago his first since Boxing Day last year.
But the Kaikoura Cup is very much the Franklin Cup of the South, a race for those just below the absolute elite level.
In the big leagues, Smiling Shard has had to bow to Smoken Up, Franco Emirate, Terror To Love, Auckland Reactor and Stunin Cullen this year.
Which is why trainer Cran Dalgety says tonight's race doubles as a trial for the remainder of Smiling Shard's season.
"If he comes out and wins this off 20m then we start thinking about the Interdominions and the best races in Aussie," said Dalgety.
"But if he struggles then we might have to reassess and stay away from the really big boys, maybe race here over the summer and target the Hunter Cup while the guns are away in Perth."
While winning in a capacity field off a 20m backmark is a rarity at Alexandra Park, Smiling Shard is the ideal horse to attempt that.
What he lacks in high speed he makes up for in stamina and that gives champion driver Dexter Dunn the option of going forward before the bell to get handy.
"That is why I think he can still win. He is good enough to have his feathers ruffled and still stick on in this grade, whereas most of them aren't," says Dalgety.
That makes Smiling Shard the horse to beat, especially when you consider his second over a similar distance in this year's Hunter Cup, beating home I'm Themightyquinn.
But there is no shortage of good-quality pacers who could trump Smiling Shard if he has to cover too much extra ground.
Highview Tommy heads that list as he is a similar type of pacer to Smiling Shard and produced a career-best third in the New Zealand Cup two starts ago. He races well at Alexandra Park and tonight's race suits ideally.
His stablemate Vi Et Animo has the raw speed to upset, as, too, does Pukekohe pacer Gomeo Romeo, who will be more comfortable tonight than he was against the superstars of Cup week.
Add in Pembrook Benny, former Taylor Mile winner Second Wind, Devil Dodger, Stormy Sirocco, Five Star Anvil and Stirling Point, who was unlucky last Friday, and the race shapes as the best betting contest at Alexandra Park this year.
That provides a nightmare for Pick6 punters but they should have an anchor in the previous leg, where Livingontheinterest looks a winner on what should be a good night for his trainer Tony Herlihy.