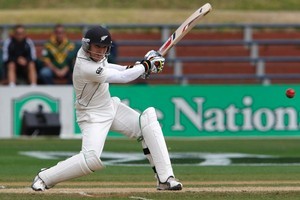 If you look about and listen closely you'll still find them out there.
It will either be one of "Stick Brendon McCullum back in the middle order"; "he should pull his head in"; or "he can't/won't dig in when the going is tough".
And if your luck is really out you might get the hat-trick in one burst.
But the naysayers are likely to have a long wait.
Yesterday, McCullum followed words with deeds, as he took apart an Australia A attack boasting four fast-medium bowlers vying for a test spot at the Gabba next week.
His 146 off 115 balls was the perfect clearing of the throat and presentation of his credentials ahead of the two tests.
The 30-year-old doesn't take much prompting to talk about the need for New Zealand to attack in the tests coming up in Brisbane and Hobart, starting next Thursday.
Sitting back and hanging on for grim death can lead to only one outcome.
Trying to impose on McCullum a safety-first, play for the draw policy from the off would be akin to suggesting the Pope might fancy having a crack at taking charge of the Anglicans for a change of tempo.
Boldness, assertiveness, front foot thinking. Take your pick.
As he prepares for his 10th test (Brisbane will be his 59th altogether) McCullum is in good heart, as well as good touch.
"I don't think you should ever aim for a draw. I think it's important that your memories through the time you've played are not of draws," he said.
"We saw in Zimbabwe, where I think they learned a lot more about themselves by pushing on for the win [in the one-off test] than they would have if they'd tried to shut down the door and get away with a draw.
"From our point of view, we're probably Zimbabwe heading into the Australian series.
"They are the stronger team, and more favoured, but we have to go out to win the tests, otherwise it's kind of pointless turning up."
Take out McCullum's first test, against South Africa in 2004 when he opened in one innings, and since taking on the opening role fulltime, the numbers tell their own resounding story.
In six tests, starting in Ahmedabad last November, McCullum has hit 512 runs at 51.2 going in first.
Those runs include that double century, and three half centuries.
Compare that with his overall average of 36.7, with five hundreds.
Yes, he may frustrate at times in the manner of his dismissals, and yes, you sometimes wonder if his mind is truly screwed on to the task at hand, but he's not about to change his game now.
Don't forget the small matter of 225 over nine hours at Hyderabad to ensure New Zealand didn't suffer a second innings tumble.
At one point they were effectively 65 for three in that innings, a familiar situation to those old hands at watching New Zealand batting slides.
So he can knuckle down but he is a cricketing child of his time, and that time demands that cricket entertain. In turn that suits his DNA.
He also figures that his best method is playing shots rather than focus his mind squarely on defence.
McCullum likes the makeup of the New Zealand team, with its good sprinkling of younger faces. Martin Guptill, Kane Williamson, Tim Southee, Doug Bracewell all have age very much on their side.
Captain Ross Taylor and his middle-order chum Jesse Ryder are also still well south of 30.
But McCullum is thinking more about now than into the future. Yes, the young talent should have New Zealand viewing the years to come positively but ...
"We should still be trying to win test matches now. Let's not wait for the future," McCullum said.
"There's no excuses for us not winning tests now.
"We've got the players, got the right lineup, there's a good feeling within the environment in terms of coaching and management.
"I don't see any reason why we can't go over there and compete and try to get the spoils. We've just got to go out and get the job done."
To McCullum, one of the key elements New Zealand must grasp is in the mind.
New Zealand's record in Australia is ordinary.
They have had two wins and 10 draws, set alongside 14 defeats going back to their first test visit in 1973-74.
Brisbane has been a particularly grim scene - the magnificent innings and 41-run win, aka Hadlee's match of 1985, stands alone against six heavy defeats and one draw.
Hobart, venue of the second test, has produced one draw and two big losses.
"I don't think there's any such thing as a poor Australian side. We expect they're going to play well.
"We just have to play better. That's the mindset shift we have to make.
"We can't expect to go over and play half decent cricket and come away with the win. We have to go and expect to play our absolute best, every single session possible and put them under pressure."
Having lost a clutch of the alltime greats around the same time - Shane Warne, Adam Gilchrist, Glenn McGrath, Matthew Hayden - McCullum thinks Australia's mere moral group of players could be vulnerable, if New Zealand can attack the right areas.
It might pay to be near a television next Thursday. If New Zealand bat first, expect McCullum to be fired up.
"To face Australia at the Gabba as an opener is probably as good a challenge as there is. The luxury I get is to walk out first and we start on an even keel."
Playing Australia spins McCullum's wheels like few other cricket experiences. He'll be up for the job next week.