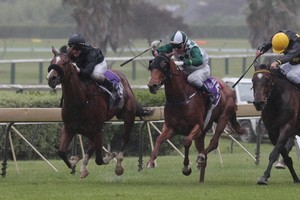 One of Antonio Lombardo's biggest fans has no fear about taking the superstar three-year-old on in tomorrow's $250,000 Levin Classic.
Because while rival trainer Leo Molloy is adamant the red hot favourite for the Classic at Otaki is the best sprinter in New Zealand, he thinks the 1600m could be too far for him.
And that could play into the hands of Molloy's last-start weight-for-age winner Duckworth Lewis.
Antonio Lombardo was allowed to miss the 2000 Guineas at Riccarton in favour of tomorrow's group one and opened the $1.90 favourite, after drawing barrier six.
But Molloy, a keen form analyst, says the flying machine is more than vulnerable at the distance. "I think the only way he can win is if Sam Spratt can get an easy time in front on him.
"If that happens he might outsprint us all because I have been saying for a while he could be the best sprinter in the country. But I don't think he will run a hard 1600m right out."
Duckworth Lewis obviously will, having won the group three Te Hana Stakes over 2000m at Ellerslie last start, downing subsequent Counties Cup winner Postmans Daughter.
Duckworth Lewis has drawn wide at 16 though and was posted at an inviting $16 quote in the TAB's market.
"I am not scared of Antonio Lombardo, or Anabandana at this distance either, not with this horse," says Molloy.
"I think even from the wide draw my horse can win, while so can a horse like Shanghai Bund, but there are only about three or four winning chances in the race."
If Molloy is right then punters willing to take a stand against Antonio Lombardo, who is unbeaten in three runs this season, will be spoiled for value, with Shanghai Bund the second favourite at $7.50. TAB bookies have signalled they at least agree that Antonio Lombardo is one of our best sprinters by opening him as second favourite for the Railway and the Telegraph in the first markets for the elite summer races.
Australian mare Ortensia, who broke her group one duck in Perth last Saturday, is the favourite for both.
However, her new trainer Paul Messara has stated the Winterbottom Stakes winner may instead be set for an autumn campaign in Sydney before being retired to the matrons' paddock.
A notable absentee from both the Railway and the Telegraph is He's Remarkable, who was so controversially relegated after winning Perth's version of the Railway last Saturday.
But Ellerslie officials will be thrilled to have Niwot, the first Australian horse home in the Melbourne Cup, nominated for the Stella Artois Auckland Cup, for which he has opened the $8 favourite.
The market for the Telecom Derby is headed by 2000 Guineas winner Rock 'N' Pop at $6.
Acceptances for the feature events at Otaki tomorrow are:
R2 1.10, CBS Levin Premier, $30,000, Rating 85, 2300m. - Belfast Lad (8) 59, He's Under The Gun (13), Just A Shout (11) 58; Conquistador (4), Deputy (6), Just As Well (12) 56; Wotabuzz (10), Regal Secret (7) 55; Alignadreams (9), Desert Gem (2), Iriodes (3), Mister Deejay (1), Ishidanzin (5) 54.
R7 4.05, Chainey's Panasonic Levin Stakes, $45,000, 1200m. - Joku (12) 59, Vincent Mangano (6) 57, Tick Tock Turbo (5) 56; Guiseppina (10) 55.5; Tai Chi Queen d (15) 55, Platinum Zana (8) 53.5, Starguru (7), Just Call Me Bond (11), Fairway Wish (9), Captain Kirk (2), Mi Payday (14), Kaptain Kirkup (4), Reuben Thorn (1), Sans Souci (13), Christine Rankin (3), Suitabelle (scratched) 53.
R9 5.17, Levin Racing Club Levin Classic, $250,000, 3YO, 1600m. - Antonio Lombardo (6), Duckworth Lewis (16), Brackenwood (4), Estrato (15), Shanghai Bund (7), Randall (18), San Rafael (10), Distill (9), Danny Ricardo (11), Platinum Playboy (14), Release Me (8), Viking Ace (3), Urunga (12) 56.5; Whoshe (2), Lego (1), Smoke 'N' Mirrors (17) 54.5. Emergencies: Ratnaraj (5), Gymdandy (13) 56.5.
Acceptances for feature at the Wanganui Jockey Club's meeting on Saturday are:
R7 3.46, Cambridge Thoroughbred Lodge Wanganui Cup, $50,000, 2040m. - Spiro (7) 59, Doctor Fremantle (5), Manonamission (10) 58.5; Halls (9) 57, Sacha (3) 56, Bruce Almighty (12) 55, Royal Era (13), Veronica Franco (6), Crocodile Canyon (11) 54.5; Cassini (2) 53.5, Authentic Desire (4), Marea Alta (16), Peace Lilly (8), Midnight Van Damme (15), The Raconteur (14), Dancing Diamond (1) 53.