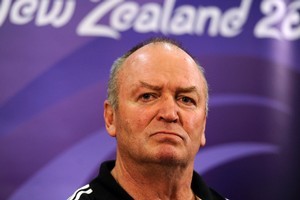 Former All Black coach Graham Henry was emphatic yesterday in ruling out taking on the vacant England job.
"I have enough problems," he said, decisively. "I'm still contracted to the New Zealand union, I want to live in New Zealand, I don't have the time or the energy or the desire."
It was a "no", unquestionably and unmistakably, although Henry sounded even more dismissive by pronouncing it "nah".
After last month's World Cup win, the 65-year-old had appeared to show interest in joining England in an advisory capacity - a suggestion that led some to place him near the top of the Rugby Football Union's wish list when the unsuccesful Martin Johnson quit as national manager.
Yesterday, the last vestiges of that interest, such as it was, had evaporated, presumably because Henry now understood the grisly black comedy being acted out at Twickenham.
He even backtracked on widely quoted comments that had been presented as an endorsement of Johnson - words to the effect that the RFU might be unwise to get rid of a manager who had spent three and a half years learning the ropes and could now use his experience to make a better fist of things ahead of the home World Cup in 2015.
"I wasn't talking about anyone in particular when I made that statement, which was a general statement," Henry said.
"I do believe that too often unions sack people or move people on when they are in a position to get better at what they're doing: if someone is a quality coach, they can learn a lot from experience.
"But I can't assess Martin as a coach because I've never seen him coach. I know him from 2001 [when Henry took the Lions to Australia with Johnson as skipper] and I was very impressed, but that was a coach-captain relationship. I know nothing about the present situation."
Henry is, however, intrigued by the possibility of hooking up with a major European club side at Heineken Cup level. "I've had no concrete offers, but I've had a chat with a couple of people," he revealed. "I'm interested in that side of things because the tournament interests me. It's a great championship. I don't think it's something for this season, but maybe next year ..."
In London to coach the Barbarians, who play Australia at Twickenham this weekend, Henry did not rule out a return to test rugby in some capacity at some indeterminate point in the future, but said there was "zero chance" of any kind of comeback in the next 12 months.
"I need some recovery time," he said. "A World Cup is a hell of a hard thing to win. Bloody hard. Things are always different in those tournaments because teams play better than they normally do - play with more emotion.
"I enjoyed the competition, except for the last half-hour of the final when I shat myself, and I feel very privileged to have been a part of something that touched the whole country, a country that has had its struggles with earthquakes and a mining disaster.
"Now it's time to move on and do something new. The Barbarians have given me that opportunity and I'm grateful."
It is generally acknowledged that the Baabaas, coaches and players alike, spend more time in the bar than on the training field in the week of a big match, and Henry, once a schoolteacher of repute, has no plans to be particularly headmasterly with the likes of Victor Matfield, Jerome Kaino and Sylvain Marconnet in his charge for the week.
- INDEPENDENT