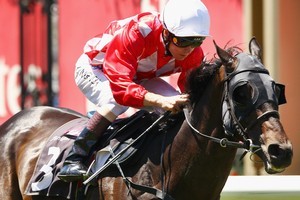 "Disgraceful" and "Home-town decision" are just two of the comments around New Zealand star galloper He's Remarkable being relegated from first to second in Saturday's A$1 million ($1.3 million) Railway Stakes in Perth on Saturday.
And those are from Australia, not New Zealand.
Astute race readers on both sides of the Tasman cannot believe He's Remarkable was rubbed out in favour of local West Australian galloper, the $4 favourite Luckygray, after alleged interference 600m from the finish.
The controversial relegation has implications much wider than simply the considerable winning stakemoney.
He's Remarkable is a magnificent individual with a stallion's pedigree.
If he fails to win another group one race in Australia, the loss from this decision will be in the ballpark of many millions of dollars.
You need to listen to impartial opinions in such matters.
Brian Taylor, of Melbourne-based bookmaking agency DoubleBet, slated the inquiry decision despite it saving his agency considerable money.
"I just cannot believe that. They're talking about indirect interference 600m from the finish of a race. You're kidding.
"Poetic Prince losing the Caulfield Guineas in the inquiry room was an obscenity and this is close to that."
New Zealand trainer John Wheeler says he will hold his disappointment over that decision for the rest of his life.
He's Remarkable's trainer Roger James, ever the conservative, was obviously devastated when the Herald spoke to him in Perth yesterday and also surprised. "There are a lot of aspects here, but for mine the over-riding one is the principle that to take a group one off a horse there has to be absolutely no doubt about the winner's culpability.
"Not only is there doubt, there was not one piece of evidence produced by stewards that showed it was even He's Remarkable that caused any interference at all.
"That alone should have been sufficient to have the protest dismissed."
Australian jockey Kerrin McEvoy looked as though he was attempting to ease He's Remarkable off the rails for a short distance before the interference occurred.
McEvoy had managed to get the stallion half a width away from the rail and the horse outside him, Waratah's Secret, was getting pressure from on its outer from a runner three deep.
The rider of that three-deep horse, Marco Hui, told the inquiry he was riding his mount to hold his position.
"In my evidence, I told the stewards that horse had its head turned sideways and even its rider declared the horse had a tendency to hang in.
"I alleged that horse that copped the interference almost certainly created its own problems.
"I pointed out that when you're riding to hold your position horses have a tendency to run around."
He's Remarkable got clear in the home straight and held out Luckygray by a long neck.
"I told the inquiry we had to get away from the emotion of a horse [second horse] flashing home and make a decision solely on evidence of who caused the interference. There was no evidence." James was given plenty of confidence when he and the other participants were asked to leave the inquiry room and await the decision.
"A Sydney journalist said to me: 'Which law school did you attend? You nailed it in there, you'll have no problems.'
"Unfortunately, stewards saw it differently."
There is no right of appeal on this decision.
"I later asked about that and although the chairman of stewards contradicted himself, the only appeal can be if there was procedural issues."
If there was a best and fairest award in racing James would have a couple of them. He states his opinion devoid of emotion. Like his summation of McEvoy's performance in the inquiry room. "Without being critical I've had better jockeys on my side in the [inquiry] room.
"I've had more eloquent jockeys. Kerrin is such a gentleman; he doesn't say a great deal with any force.
"I felt he could have shown a bit more killer instinct."
He's Remarkable was an expensive yearling purchase and should now have two group one victories alongside his name. He almost certainly would have won the 2000 Guineas had his rider's whip not broken.
"I feel sorry for the owners. I told them last night that the winning stake might have been A$450,000, but losing the race has cost them between $4 million and $5 million.
"I also feel sorry for the horse."
Excuse us if we also feel sorry for Roger James.