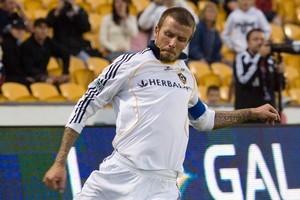 Thousands of young soccer players in the Waikato and Bay of Plenty could miss out on watching the 2015 Under-20 World Cup on home turf because the $39 million V8 Supercars budget blowout in Hamilton has left some councillors wary about hosting expensive sporting fixtures.
The city's deputy mayor, Gordon Chesterman, said he would vote against bidding for seven matches and a quarter-final of the Fifa world cup which came with an $809,000 price tag.
"I've read the contract and there are some risks around it and Fifa has some very tight requirements including if facilities are not meeting their standards, they can force the host city to construct something," he said.
"I think the requirements are too onerous, that the $800,000 wouldn't stop there and we're going to end up with a risk like we did with the V8s."
Mr Chesterman said the fact the matches would be viewed by 500 million in 200 countries did not interest him because "it doesn't often translate into heaps of visitors".
Councillor Daphne Bell admitted she was worried about committing money to the event after councillors were initially sold the V8s at $7 million - a low figure compared with what the event eventually cost the city.
"I'm very conscious of our financial position and I think we have to ask ourselves 'What may we not be able to fund as a result?"'
Waikato Bay of Plenty Football Federation chief executive Cameron Mitchell said it would be disappointing if Hamilton did not submit a bid after Fifa had ranked it as the best of four New Zealand cities - ahead of Auckland, Christchurch and Wellington - to host the Under-17 Women's Soccer World Cup in 2008.
Mr Mitchell said that of his organisation's almost 15,000 players, 85 per cent were under 19 and a chance to watch the games in person would benefit the development of the sport.
"Everyone's pretty excited about the opportunity to host the tournament and it would be a shame if Hamilton wasn't part of the bid process."
Waikato FC board chairman Brendon Coker said the club, which fielded a team in the ASB premiership league, fully supported a bid.
"It would be a huge achievement for the city to get."
Council events and economic development acting general manager Lance Vervoort said he would not comment on an elected member's opinion but a report he would present to the council showed a potential economic benefit to the city of up to $3.5 million.
With an estimated 8500 international visitors, the sporting fixture would attract only a tenth of the number who followed the Rugby World Cup this year. However, Mr Vervoort said tourism bosses had identified some of the 200 countries tuning into the event as target markets for the city.
He said Hamilton had all the infrastructure it needed to host the games and the city was a central destination for a large pool of potential spectators from places such as Rotorua, Tauranga, Greater Waikato and Auckland.
But Mr Vervoort - who quit a top Auckland Regional Council post in 2009 after he was jointly responsible for a failed football extravaganza featuring David Beckham in which Mt Smart Stadium lost $1.79 million - said a risk assessment noted potential extra costs during the negotiation phase.
As well, he said that if Fifa decided to stage the World Cup during June and July, it could clash with rugby commitments at Waikato Stadium.
Councillor Ewan Wilson said the V8s debacle had not put him off considering other sporting events for Hamilton.
"I think the lessons we have to learn from the V8s is every proposition has to have a robust business plan and analysis and on that premise we go into it saying, 'If it stacks up as a business proposal then let's look at what our current resources are'."
Councillors must decide on Thursday whether to make a bid ahead of Fifa's closing date on November 30.