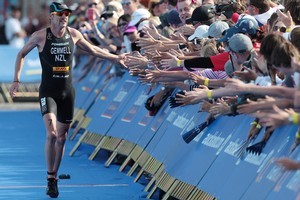 To say yesterday's ITU World Cup victory was an emotional win for Kiwi triathlete Kris Gemmell would be an understatement.
The veteran Kiwi has had a wretched year on the triathlon circuit, with his progress hampered by a mystery illness - later diagnosed as viral myositis.
It left a frustrated Gemmell racing on "six cylinders when I need eight", and his results well down on where he had hoped to be leading into an Olympic year.
Yesterday's breakthrough win at the Barfoot & Thompson International Triathlon Union World Cup yesterday, part of a one-two New Zealand double with Bevan Docherty finishing second, signalled a return to full health for Gemmell.
Thousands of people cheered him on as they spent the day out on the waterfront and downtown Auckland.
Dozens of roads were closed or half-blocked off as the event took place.
He celebrated long and hard and he danced his way up the chute to the finish line.
But the elation soon turned to sadness and his thoughts turned to his cousin Tim, who has been diagnosed with a brain tumour.
The Kiwi hero sobbed openly behind the finish line - his health battles may be over, but a close family member's are just beginning.
He later told journalists about the news that rocked his family a month ago.
"I don't know what it's like for families and people who have gone through cancer and stuff like that," he said.
"I'd like to pretend that I know but all I know is I want to help and Tim got diagnosed with a brain cancer four weeks ago.
"They gave him a sentence and said that's how long you've got to live. I don't think that's very fair. We decided that instead of it being a sentence it was a green light to getting on with living."
Gemmell dedicated his win to his cousin, spelling out T-I-M with his hand to the television cameras as he made his way around the final lap of the central Auckland circuit, cheered on by thousands lining the streets.
He will donate his $6500 prize money to cancer research, with his sponsors pledging to match the amount.
The wind threatened to put a dampener on things for those competing in the morning, in the age-group sprinting races.
However the sun came out later in the afternoon in time for the elite women's and men's races, which a number of the world's top athletes - including New Zealand's Docherty and Andrea Hewitt - participated in.
Ordinary Kiwis who ran, however, included Auckland accountant Karen Evans, who decided to take up the challenge after first entering her 17-year-old daughter Courtney into the triathlon.
"I entered her in May and I just thought: 'Why not?' My daughter actually didn't end up doing it ... she's got exams so she's at home studying and I'm here doing the triathlon."
The 47-year-old competed in the 45-49 female age group sprint.
She said she had always been a keen runner, but did a lot of swimming in the lead-up to the event.
For Mark Colthart, the event was a special one because it was his first time competing in a triathlon.
"And for my first triathlon to be at such a big event - the International World Cup - it's great."
Speaking about the actual race, he said: "It was brilliant. I was very nervous but once the race was under way, I was fine."
Mr Colthart, a barrister, said he decided to enter the triathlon "just to keep it interesting".
The crowds on Queens Wharf on Auckland's waterfront peaked to about 7500 just before 2pm, while droves of people lined Quay, Shortland, Albert, Victoria and Queen Sts to see the action.
There were a number of "oohs" as athletes zoomed through sharp corners and angled dangerously to one side.