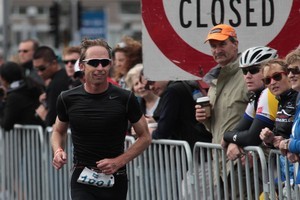 It has been six years since Hamish Carter last donned the lycra and raced competitively.
And the former world and Olympic triathlon champion said he felt every one of those years as he battled through fatigue on the run leg of yesterday's ITU World Cup.
Carter joined the masses in the Barfoot & Thompson-sponsored event, competing in the men's 40-44 category alongside hundreds of other "weekend warriors" who made the most of the opportunity to race on their home patch.
Carter found the going tough after limited preparation.
Physically exhausted after the 40km bike leg, Carter said it was only adrenalin that got him through the 10km run and across the finish line.
"I really didn't have anything left after the ride, I just didn't have that fitness," he said.
"But I was really pleased I did it - I definitely would not have wanted to be watching even though it hurt a little bit, it was fantastic."
Carter finished sixth in his age-group in 2 hours, 8 minutes and 31 seconds - about six minutes off the winner Glenn McLeay.
Despite having raced for more than 15 years in the elite ranks, Carter enjoyed the opportunity to join the masses in the age-group division, where he said the racing was just as competitive.
"These guys often train as hard as the elites, but they don't get the recovery time because they work, so they do it pretty tough, so good on them," he said. Since retiring from triathlon six years ago, Carter has tried to keep fit and stay in good shape, running a couple of times a week.
In the lead-up to yesterday's race he did a "few rides and a few swims" but rated his fitness as being about a tenth of what it was when he was in peak racing shape.
Carter had fairly modest goals for the race and said he was delighted with his time.
"I was way better than I thought I was going to go," he said.
"The main goal I had was I wanted to enjoy the last lap of the run and I kind of did.
"It was nice, there were heaps of people out on the course supporting so it was fun."
Another notable name taking part in the age-group division was Rick Wells, one of the pioneers of New Zealand triathlon who dominated the sport during the 80s and early 90s, winning just about every race over any distance from sprint to Ironman.
Wells finished sixth in the 50-54 age-group division in a time of 2h 15m 12s.
Former champion rower Nathan Twaddle was 39th in the 35-39 category.